Chancellor attends Sunway University graduation
10/17/2012 00:00:00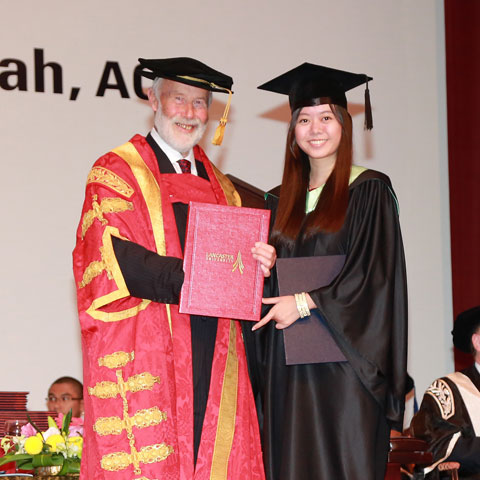 ​The Chancellor Sir Christian Bonington has attended the graduation ceremony at Sunway University in Malaysia.

The ceremony was also attended by the Chancellor of Sunway Y.Bhg Tan Sri Dato Seri Dr Jeffrey Cheah and Lancaster's Pro-Vice-Chancellor (International) Professor Steve Bradley.

This graduation comes in the 25th anniversary year of Sunway University, which marked the event with the Sunway Education Expo 2012.

Sunway University and Lancaster University established an academic partnership in 2006. Under this institutional arrangement, students at the Sunway campus are able to study for undergraduate degree schemes in the areas of Business, Computer Technology, Communications, Hospitality and Psychology.

Lancaster University validates a range of full degree programmes which are taught at the Sunway University campus in Kuala Lumpur, Malaysia.

Students are taught at the Sunway campus in Kuala Lumpar and after successful completion of the honours degree programme, students will be awarded two certificates, making them graduates of both Sunway University and Lancaster University.

In 2009 Sunway introduced new masters programmes in collaboration with both Lancaster University Management School (LUMS) and the School of Computing and Communications at Lancaster University.

The new graduates  were invited to a High Tea at the Sunway Hotel the day after the ceremony,  where they were joined by Sir Christian and alumni guests.