Lancaster University top for research
10/07/2005 14:02:31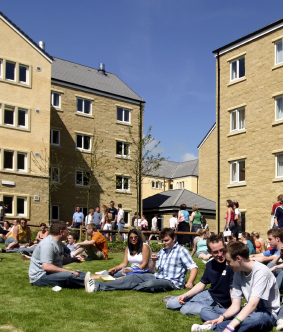 Lancaster University completed the extension of the existing Graduate College with 402 new ensuite rooms for postgraduate students on the University's South West campus, as part of its 120 m residence programme.
Lancaster University has been ranked among the top "research star" universities in the country.
According to new figures published by the Higher Education Statistics Agency Lancaster University is the third highest earner of research income in proportion to academic staff costs.
The University is also listed second among the top providers of PhDs in proportion to academic staff costs.
The Times Higher Education Supplement (September 23) listed Lancaster alongside Oxford, Cambridge, University of East Anglia, York and Cranfield as a small handful of "research star" universities to emerge from the HESA statistics.
Chris Park, Director of Lancaster University Graduate School, said: "Lancaster's international research reputation attracts high quality postgraduate research students from around the world, and we work hard to provide them with a good experience, both academically and non-academically. It is very rewarding to see the commitment and hard work of our staff, and the effectiveness of our procedures, reflected in these excellent results. Taken together, both measures (research income and number of PhDs awarded, relative to academic staff costs) show the vibrancy of the research culture which underpins Lancaster's academic reputation, and which is clearly cost-effective relative to the rest of the sector."
For further information please go to http://www.hesa.ac.uk/pi/0304/research.htm
The HESA statistics were released in the same week that Lancaster University came sixth in a new National Student Survey.
The University was the highest ranked university in the North West of England and was rated 6th for overall satisfaction in a table, based on the survey information, put together by the BBC: http://news.bbc.co.uk/1/hi/education/4265894.stm. It was also ranked joint first in the North of England.