Get Your Pulse Racing!
04/11/2006 16:54:56
Last week Lancaster University Volunteering Unit (LUVU) launched Pulse, a day where community groups, businesses, and members of the university will get active and have a great time! Pulse is being held on Sunday 7th May at the University and is supporting the British Heart Foundation.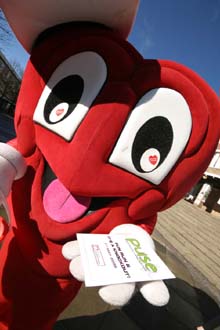 Pulse will include 3 fun runs – you can stroll round the 1.5k course, take the 5k challenge, or enter the 10k run. There will also be an It's a Knockout obstacle course, which is a competition that pits teams of 6 – 10 against each other in challenges and obstacles with lots of fun and foam mixed in!
For those who prefer to watch there will be live sport matches happening throughout the day as part of the University's Roses Weekend, an annual sport tournament between the universities of Lancaster and York.

Get your trainers on now and start practising for a fun, wild, (and possibly wet!) day. So whether you want the challenge of a 10k run or fancy some fun and laughs in It's a Knockout, contact LUVU on 01524 592949 or take a look at www.luvu.org.uk/pulse.