LUVU scoops National Work-Experience Award
03/14/2008 15:14:39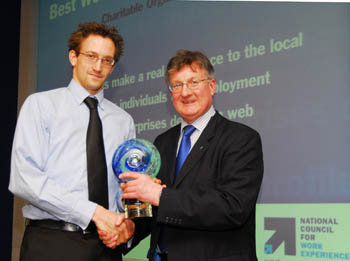 Matt Hutchinson, CommIT Project Manager, LUVU, receiving the award from David Frost, Director General of the British Chambers of Commerce
Lancaster University Volunteering Unit (LUVU), has won the National Council for Work Experience's (NCWE) Award for Best Work Experience Provider – Charitable Organisations, at its fifth annual Awards ceremony, held at the Café Royal, London, on the 12th March. The Awards were presented by David Frost, Director General of the British Chambers of Commerce, who emphasised the importance of 'real learning'.
The NCWE Awards, established in 2003, highlight the growing importance of work experience in allowing students to develop transferable skills whilst also providing companies with an accessible talent pool for recruitment. They aim to recognise, encourage and reward employers who take the lead in the provision of valuable work placement opportunities for students; setting high standards for others to follow by offering fulfilling work placements that help students to bridge the gap between education and the world of work.
LUVU was one out of over 200 company written submissions. The winner and highly commended award in each category were chosen following a visit to all the short-listed organisations by NCWE personnel to review and assess the work-experience programmes.
Heather Collier, Manager of the NCWE, commented:
"We are delighted to have presented Lancaster University Volunteering Unit with the Award for Best Work Experience provider in Best Work Experience Provider – Charitable Organisations. The judges chose Lancaster University Volunteering Unit because it provided an outstanding scheme for students to be immersed in all aspects of its work and develop their transferable skills. The quality of the submissions increases year on year and so the judging becomes increasingly tough. Lancaster University Volunteering Unit demonstrated a high quality programme that enabled students to learn form a wealth of experiences and thrive on the responsibility invested in them."
Ben Matthews from Lancaster University Volunteering Unit added:
"We're thrilled to have received the Award for Best Work Experience Provider -Charitable Organisations. We entered the Awards because we believe the work of Lancaster University student volunteers should be celebrated. They have dedicated thousands of hours of their time to help improve the effectiveness of community organisations through ICT and also supported over 500 people out of work to increase their ICT skills and job related skills. Students come away with the confidence to enter the graduate job market in the knowledge that they have valuable practical experience on their CV. The Award recognises LUVU's team efforts to firmly embed volunteering into the culture of Lancaster University and the hard work they've put in to making placements and projects a success for everyone involved."
For more information on the NCWE awards and work experience placements - www.work-experience.org, 0845 6015510