Campus Arts Round Up
06/04/2003 16:17:06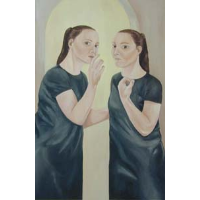 At the Nuffield Theatre, Lancaster University Theatre Group perform 'One Flew Over the Cuckoos Nest' by Ken Kessey. Adapted by Dale Wasserman, Kessey's award-winning cult novel about one man's struggle against the system has been radically reworked for the Nuffield Theatre. It is a harrowing and humorous tale of friendship and justice. Told from the perspective of one of the patients, Big Chief Bromden 'One flew over the Cuckoo's nest' looks to be a night of laughter and tears.
The show runs from 10th to 12th June. Each show begins at 7:30, and tickets are £6 full price and £4 for concessions.
From 20th June to 1th July, the Peter Scott Gallery hosts the Art Department's Student Degree Show, where selected contemporary artworks by Final Year students, many of which will be for sale, will be on display.
This will be followed by an exhibition of artworks inspired by the abstract artist Albert Irvin by students with learning difficulties and disabilities from Blackpool and the Fylde College. The Gateway for Adults Exhibition will on at the Peter Scott Gallery between Tuesday 8th and Friday 11th July. Admission is free, and opening times are available from the Peter Scott Gallery 01524 593057.
On Saturday 29th June, the University of Lancaster Music Society (ULMS) present their annual Proms concert. This year's concert promises to be extra special as it marks the Society's 25th anniversary. Concert-goers can look forward to performances by the Big Band, Choir, Wind Band and Symphony Orchestra including Copland's Fanfare for the Common Man and a Beatles medley, as well as the traditional Proms programme of Jerusalem, Rule Britannia and Land of Hope and Glory.
The concert begins at 7pm and takes place in the University's Great Hall. Tickets are priced at £8 for adults, £5 for students and concessions, and £3 for members of ULMS. Tickets can be obtained by contacting ULMS via the Music Department, Lancaster University, LA1 4YW, by email: ulms@lancaster.ac.uk. or on the door. Wine, strawberries and other refreshments will also be served.
Meanwhile, the Ruskin Library continue to profile Ruskin's Romantic Tours, charting journeys undertaken by Ruskin, along with his parents, around the North of England and Scotland whilst he was still a teenager. The exhibition is on at the Ruskin Library until 28th September 2003.