First formal research agreement between Lancaster and Kyoto University
11/03/2006 13:29:46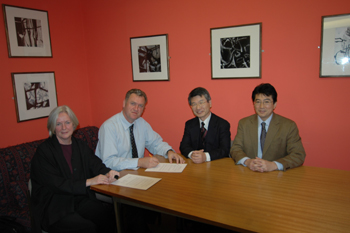 Professor Mary Smith, Professor Tom Ormerod, Professor Masuo Koyasu and Professor Satoru Saito
The Psychology Department have recently established a formal general agreement with the Graduate School of Education at Kyoto University to promote academic cooperation and exchange.
Professor Tom Ormerod, HoD Psychology, accompanied by the Dean of the Faculty of Science and Technology Professor Mary Smyth, signed the agreement on behalf of Lancaster University, which was also signed by Professor Yoshityaka Kawasaki, Dean of the Graduate school of Education, on behalf of Kyoto University.
The agreement marks the first formal research agreement between these universities, and was celebrated at the first International Symposium on Psychological Science and Cogntive Development held on 25th and 26th October in Fylde College.
This symposium brought together internationally renowned researchers from Kyoto Graduate School of Education and the Psychology department and Centre for Research In Human Development at Lancaster for two days of academic discussion and knowledge transfer.