Students Take Up Global Challenge
03/02/2009 11:50:35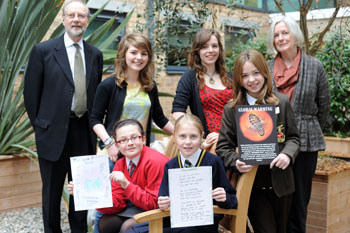 Dean of the Faculty of Science and Technology Professor Mary Smyth and LEC Co-Director Professor Graham Harris with Let's Cool It competition winners and Blackpool Sixth Form College students.
Blackpool Students have been learning how to 'Cool It' this week at Lancaster University as part of a climate challenge project.
20 students from Blackpool Sixth Form College visited Lancaster University research scientists as part of the 'Let's Cool It' project - part of an EU / British Council funded project on Climate Change which links students at The Blackpool Sixth Form College with counterparts in a school in Izmir, Turkey.
The project focuses on building international links between young people who can work together to help understand Climate Change and take positive action to improve the environment.
On Wednesday, February 25, the students got hands on at the University's Lancaster Environment Centre working alongside research scientists who are tackling some of the toughest problems facing the planet - from climate monitoring to understanding how to deal with the impacts of climate change whether it be drought or flood.
As part of the scheme, the Sixth Form College ran a competition asking Lancashire schoolchildren to create posters and poems describing something that they find precious about the planet in order to bring the climate change message home. Hundreds of entries were submitted from pupils from 16 different schools across Blackpool, Fylde and Wyre.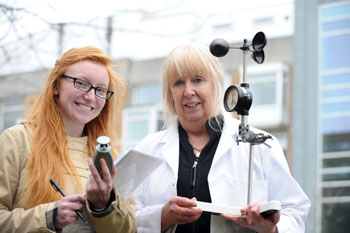 Blackpool Sixth Form College student Abigail Lovell with Christine Valentine, Environmental Science.
Prizes were awarded to the winners at a special ceremony at the Lancaster Environment Centre by Lancaster University Dean of Science and Technology Professor Mary Smyth and Co-Director of LEC Professor Graham Harris.
Lancaster University Science Partnerships Officer Dr Alan Darragh said: "I am delighted the University has been able to assist with this project though our Science and Technology Schools Partnership programme - giving students a chance to sample real climate science at work. The fact the project has involved primary, secondary and sixth form students shows a tremendous commitment in trying to communicate the issues of climate change to all ages."
Eco Council Co-ordinator for The Blackpool Sixth Form College Jon McLeod said: "We had a tremendous response to our competition on the theme of Climate Change. It just goes to show how strongly young people care about keeping their planet safe for the future. Our sixth formers from the College have also benefited enormously from working with staff from the Lancaster Environment Centre as part of their project. It's great to seem them learning from leading research scientists and I am sure this will inspire many of them to go on to study and work in environment-related areas. They will be helping to tackle many of the problems they have been looking at today."