University visit inspires pupils
07/09/2007 13:46:20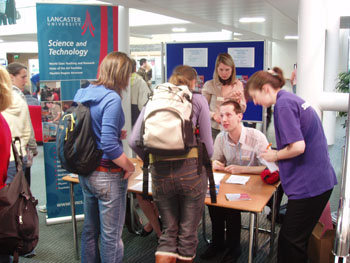 Students at Lancaster University's Science and Technology Taster Day 2007
The Head of Science at Lancaster Girls' Grammar School says a taster day at Lancaster University so impressed his pupils that some of them are considering applying here as a result.
Around 120 pupils from Lancashire and Cumbria took part in a series of workshops at the University as part of a Science and Technology Taster Day.
Schools attending included Blackpool Sixth Form College, Barrow Sixth Form College, Lancaster Girls' Grammar School, Queen Elizabeth School at Kirby Lonsdale, Parrs Wood Technology College in Manchester and Dallam School in Cumbria.
Keith Strachan, Head of Physics at Lancaster Girls' Grammer School, said the Taster Day made a big difference to his pupils, who are all considering studying science at university.
"A couple of them are actively considering Lancaster as a result and this also has a knock-on effect lower down the school because other pupils see how successful the trip has been."
The teenagers visited the Ultra Low Temperature Physics group which recorded the world's coldest temperature of 5 millionths of a degree above absolute zero in 1993. They were also shown an indoor wave making machine, a model of an exploding volcano and had a go at devising a parachute.
They also attended short lectures and took part in practical workshops.
Mr Strachan said: "They felt welcome because they picked up on the fact that a lot of effort had been made on their behalf. They felt that if they come to Lancaster, they will be taught by people interested in how they are doing and who are interested in teaching them."
The event was organised by the University's Science Partnership Officer Dr Alan Darragh.
He said: "The taster day gave students a flavour of some of the fascinating work happening at Lancaster - which ranges from studying environmental change to developing new computer games – and showed them some of the opportunities available to science and technology undergraduates. I'm pleased it has inspired some of them to study here."