Honours for staff at Lancaster
01/26/2006 15:22:14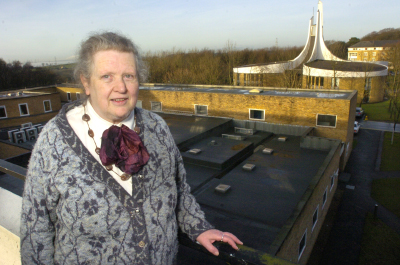 Mrs Marion McClintock MBE, Academic Registrar.
Two members of staff have been given MBEs in the New Year Honours list. Marion McClintock, Lancaster University's Academic Registrar received an MBE for services to higher education and Dr Robert Henderson, a researcher in Physics received his for services to young people in Lancashire.
As Academic Registrar, Marion has been involved with the University's governing bodies, and with RAE since its beginning in 1986. She has also played a major part in Lancaster's two successful bids for the Queen's Anniversary Prizes.
Marion has worked in Higher Education for 45 years, after studying at Durham, including Cambridge, Oxford and Duke University North Carolina, before joining Lancaster University in 1968, when her husband Professor Peter McClintock started work in the Physics Department.
A number of posts followed including departmental officer in the English Department and administrator in the Centre for North West Regional Studies. In 1972, the Vice Chancellor Charles Carter commissioned her to write the early history of the University, and Quest for Innovation was published.
After seven years working as an administrator in the Management School, Marion came to work full time in University House in 1987, with responsibilities including secretary to the Research Committee, secretary to Senate and for the boards of studies as they became faculties. These expanded in 1990 to cover Court and Council and she became Academic Registrar in 1994.
She intends to retire in September this year, but will have an honorary post as the University's archivist.
Dr Robert Henderson, a researcher into particle physics at Lancaster University, has also been awarded an MBE, for his work with the 1st Morecambe Boys' Brigade. Dr Henderson has led the group as captain for more than 10 years.