Taster Visit Encourages Pupils To Apply
10/03/2008 11:26:12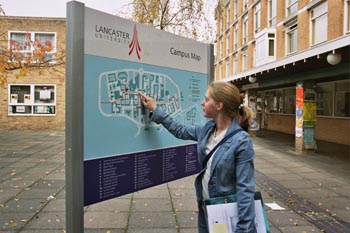 The pupils were shown around campus as part of their visit
Over half of sixth form pupils from Blackburn College say they are considering applying to Lancaster University after a successful taster visit.
Nearly 400 pupils from year 12 and 13 toured the campus and attended a Student Life workshop where the teenagers were shown the wide range of activities on offer to students. They learned about Fresher's Week, the great social life on campus, student societies and studying at university.
In addition, the Lancaster Institute for Contemporary Arts held a departmental talk as 20 of the visiting students were taking a BTEC National Diploma in Art.
There were 242 year 12 or lower sixth students, including 210 AS level and 32 Vocational Science pupils. 120 of these answered that they are more likely to apply to Lancaster as a result of the visit. Out of the 134 year 13 students nearly 83.5% said they are more likely to apply to Lancaster as a result of the visit.
The visit day was organised by the University's Black and Ethnic Minority Recruitment Advisor (BME), Amran Ghoni, who has already arranged visits from Burnley College and St Wilfrid's College in Blackburn.
He said: "I'm very pleased with the positive response from the pupils who really enjoyed their visit here. We got lots of positive feedback. Kirsty Ormerod who's planning to study Accountancy was very impressed by our campus and enjoyed the campus tour and the presentation while Hammad Juhanzed who's planning to study Biomedical Sciences said he enjoyed the campus tour.
"Blackburn is one of our feeder colleges but until now they haven't had their own campus visit. We hope that this visit will encourage students to apply to Lancaster once they have seen first hand what we can do for them."
Another visit from Blackburn College is being planned for next year.