University to help SMEs exploit new manufacturing technology
06/01/2010 06:59:57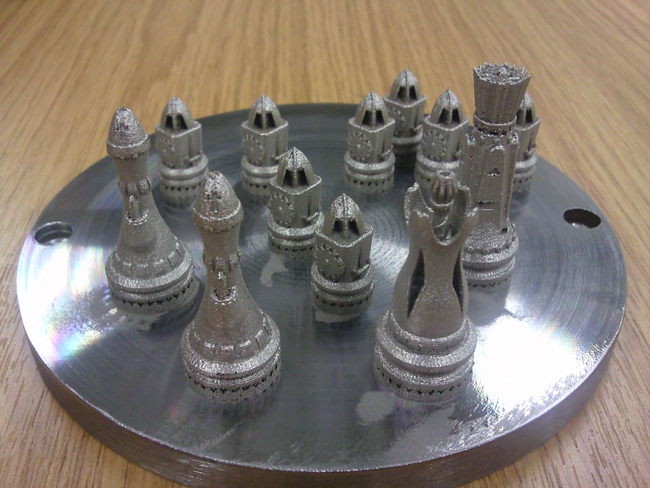 example of a product constructed using AM technology
Businesses in the North West could soon be taking advantage of a little-understood technology previously consigned to prototype manufacturing.
Lancaster University is leading a £2M project to help the region's small and medium sized businesses to exploit the use of a technology known as additive manufacturing (AM) which uses digital data to build a product from scratch, layer by layer.
Funded by the Northwest European Regional Development Fund (ERDF) with match funding from the University, the project aims to work with 150 SMEs over the next three years, creating 50 new jobs and safeguarding 100.
The advantage of AM lies in the fact that it is quick and easy to make changes to a product's design – making it perfect for one-of-a-kind items ranging from protective equipment and hearing aids to unique children's toys and bespoke home furnishings.
Although the technology has huge potential and had been around for just over 15 years in the UK, it has been under exploited by UK businesses.
Also known as 3D Printing, AM uses 3D computer aided design data to create items in a variety of polymeric, metallic, organic and ceramic materials.
Dr Allan Rennie of Lancaster University's Product Development Unit is leading the project. He said: "Although identified as a key technology within the European manufacturing arena, rapid manufacturing remains in its infancy and only large scale manufacturers and technology-focused research firms are taking advantage of it through installation of their own systems.
"Until recently this type of technology was more often associated with prototype manufacturing and that has prevented people from fully understanding it and considering other ways of using it.
"We want to help make more SMEs in our region aware of the opportunities available through using these technologies to create end-use parts and products in some of our region's key sectors such as aerospace, automotive, biomedical, nuclear, and energy and environmental technologies."
The ERDF programme is backed by the Programme Monitoring Committee (PMC) – a group of senior representatives from across the region. The Group was formed to monitor, oversee and advise on the delivery of the ERDF programme.
Peter Watson, managing director at Business Link Northwest and ERDF PMC member said: "During economic recovery, it's critical that businesses capitalise on every opportunity to help them thrive. This technology has the potential to help SMEs to increase their competitiveness through technical innovation and, by working with 150 North West businesses, the project will help to create and safeguard jobs in the region over the next three years."