CBE for 'more crop per drop' scientist
06/13/2011 00:00:00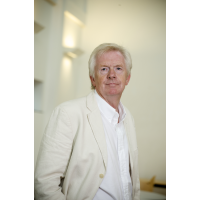 A pioneering Lancaster University environmental biologist has been awarded a CBE for services to Science.
Professor Bill Davies, Director of the Centre for Sustainable Agriculture, Lancaster University, and founding Director of the Lancaster Environment Centre was included in the Queen's birthday honours list on Saturday June 11.
Recognised as a world leader in his field, Professor Davies has spent his career contributing to one of the biggest challenges facing humankind - feeding seven billion people against a background of climate change.
In 2009, work led by Professor Davies won Lancaster University a Queen's Anniversary Prize for Higher and Further Education.
The prize was for the development of water saving techniques for agriculture which have helped farmers in some of the driest regions of the world.
Professor Davies has helped develop new understanding of how plants react to stress which has now been exploited by the agriculture industry.
Water saving approaches to irrigation and to the management of crop production have resulted in significant water saving and better crop production in regions of the world which suffer water scarcity. This means increased food production and profitability for farmers and better conditions for people living in challenging environments which are becoming even more challenging as the climate changes.
Science led by Professor Davies' group has been used to increase the sustainability of food production in the UK and in many other parts of the world. The effectiveness of the Lancaster 'science into business' approach has also been recognised in the award of the coveted Times Higher Research Project of the Year 2009.
Professor Davies said: "I am honoured and thrilled by the award. I hope that this will help raise the profile of Lancaster's cross-disciplinary work to address the issues underpinning global food insecurity."