Rapturous Reception For Martin Bell
11/01/2007 09:17:46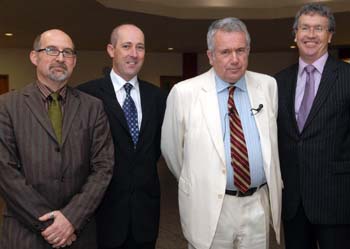 Prof Christopher May, Dr Feargal Cochrane, Martin Bell and Vice Chancellor Prof Paul Wellings
The distinguished former BBC Foreign Affairs Correspondent Martin Bell OBE has shared his lifelong experience of war reporting before a packed audience at Lancaster University.
The former war reporter and ex-MP, who is now a UNICEF UK Ambassador, said he received many invitations to speak and declined most of them - but not this one.
He said: "Students are the future and I'm impressed with their idealism. We've made a mess of the world and it's up to the next generation to sort things out."
The public lecture entitled "Reflections on War, Peace and Politics" was organised by the Department of Politics and International Relations in association with the Richardson Institute for Peace and Conflict Resolution and the United Nations Association.
In his trademark white suit and brandishing a pen made from two Kalashnikov bullets, Mr Bell spoke about how the media sanitises war, with reporters on hotel roofs instead of out in the field.
"You think that what you see on television is reality but it's not. We mustn't be deluded into thinking that war is a viable policy option. We should learn the lessons of history. We British are into our fourth Afghan war and guess who won the other three?"
He condemned the Iraq war, saying it was largely a war fought for oil which had given a spur to terrorism.
"Most casualties in modern warfare are civilian and when you bomb civilians you are not eliminating the enemy but recruiting for the enemy. Privately, MPs tell me they regret voting for the war but they won't say so in public."
In his 30 year career with the BBC, Martin Bell covered 11 conflicts and reported from 80 countries. While covering the war in Bosnia, he was seriously wounded by shrapnel while recording a report. He won the Royal Television Society's Reporter of the Year Award in 1977 and 1993 and was awarded the OBE in 1992.
In 1997, he left the BBC to stand as an independent candidate in Tatton. He said becoming an MP shocked him due to the lack of military experience in the Commons.
"Soldiers are the best witnesses for peace. This is the first time there are ministers with no experience of wearing the Queen's uniform. This is partly why they agreed to the nonchalant military adventurism of the Iraq war."
The Director of the Richardson Institute Dr Feargal Cochrane said: "I was really pleased that it went so well and it helped raise the Institute's profile."
This was the second lecture at the Richardson Institute, which was established in 1959 as the first peace research centre in Britain. The inaugural lecture was given in October last year by Robert Fisk, Middle East Correspondent of The Independent.
http://www.lancs.ac.uk/users/richinst/index.htm
http://www.lancs.ac.uk/fass/politics/index.php
http://www.unicef.org.uk/celebrity/celebrity_biography.asp?celeb_id=3&nodeid=celeb15&section=2