World Premiere and free film to open Nuffield Theatre Festival
04/17/2009 15:53:51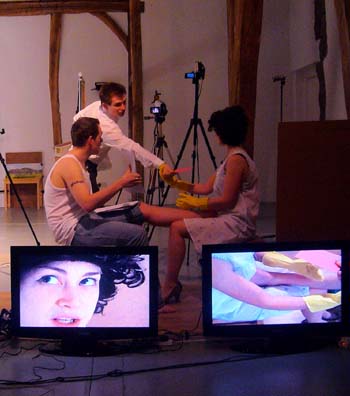 Virtuoso (Working Title) by Proto-type Theatre
The Nuffield Theatre's Adulterated Tales Festival opens on April 22 with the World Premiere of Virtuoso (Working Title), a remarkable mix of performance and live filmmaking from Proto-type Theatre.
Originally based in New York, the company have taken up residence in Lancaster's newly refurbished Storey Institute and are returning to the Nuffield where they developed and premiered their last piece, the critically acclaimed Whisper.
In Virtuoso (working title), Proto-type construct a television show live in the theatre, set in a twisted, darkly funny American suburbia where everyday life has become strange. It's 1963, a stranger has appeared in the living room, there's a sinister spot on the wall that keeps getting bigger and outside the world is closing in...
The performers switch personas and costumes and use miniature figures, props, backgrounds and live video feed to assemble the perfect shot for a television show that doesn't exist. The Nuffield-commissioned Virtuoso (working title) plays with the difference between what we see live and what we see on screen to explore love, home, and perfection.
This is followed by a free late-night screening of the cult Maysles brothers' documentary film Grey Gardens about Jacqueline Kennedy's cousin and aunt, former socialites living in a crumbling mansion. The festival launch night even features cocktails created by the company, named after the real-life characters in the movie, Edith and 'Little Edie' Bouvier-Beale.
As part of the 'A Night Less Ordinary' free tickets scheme, there are free tickets for young people under 26 for ALL festival events, on a first come first served basis.
http://www.nuffieldtheatre.com/events or call the box office on 01524 594151.
8pm (show), 10pm (film) Wednesday 22 April