Talented Lancaster Students are hope for the future
04/23/2001 11:58:09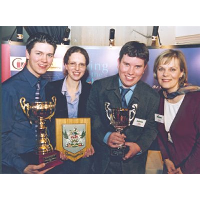 Students from Lancaster University creamed off the top three prizes in a prestigious competition, which put their academic skills to the test in a real life battle for business.
Up against the clock, Ben Farrow, 19, Paul Bagstaff, 19, and Claire Cooper, 22, beat off a series of tough rivals in The Chartered Institute of Marketing's 14th annual student competition.
The winning team, who met for the first time only a matter of hours before the competition began, had to crack an unseen brief and deliver a five minute electronic presentation to a live audience and panel of judges.
Facing a tight budget, they were given only five hours to put together a half a million pound strategy to sell an American fruit drink for the first time in the UK.
They produced a string of creative ideas which earned them the top award, The CIM Shield, and also walked away with the Best Presentation Category from the University of Central Lancashire as well as the Lawton Hawthorne Audience Vote Award.
The event was sponsored by Charter Consulting, a leading marketing consultancy based in Lancaster.
Claire Cooper, who is studying a degree in marketing at Lancaster University said the experience would be an excellent addition to her curriculum vitae.
She said: 'The competition showed us the need to come up with creative ideas and have the confidence to back them up. The fact that we were up against a clock throughout the day certainly was the most difficult part of the challenge.'
The competition was also a chance for students to mingle with members of the marketing world and they have all been assigned work placements to help boost their careers.