First Webcast of A Contemporary Opera
03/06/2009 12:16:26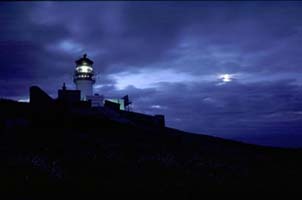 The Lighthouse is set in the Hebrides
One of the UK's leading contemporary music ensembles, Psappha, present the world premiere of a major new production of The Lighthouse in celebration of the 75th birthday of their patron and Master of the Queen's Music, Sir Peter Maxwell Davies, in the Great Hall of Lancaster University on Thursday 12th March.
This performance will become the first webcast broadcast of a contemporary opera from Monday 30th March at www.lancasterconcerts.co.uk / www.psappha.com . It is the final concert in Lancaster International Concert Series 40th Anniversary Season.
Part ghost story, part psychological drama, The Lighthouse tells the story of the mysterious disappearance of three lighthouse keepers in the Hebrides. Psappha's new production is directed by Elaine Tyler Hall and conducted by Etiene Siebens with a distinguished cast featuring James Oxley tenor as Sandy, Damian Thantrey baritone as Blazes and Jonathan Best bass as Arthur. The production is designed by Aaron Marsden with lighting by Marc Rosette.
Speaking about the production, the director Elaine Tyler Hall said:
"Since its premiere in 1980, The Lighthouse has received over 100 new productions and we are delighted to be able to mark Sir Peter Maxwell Davies' birthday with such a fine cast and a brilliant ensemble production lead by Psappha. Max's music in The Lighthouse evokes such an extraordinary atmosphere of tension that the audience is immediately drawn into the story. It tells not only of the three lighthouse keepers and their past lives, but also of the experiences of the three officers of the Lighthouse Commission boat who journey to the lighthouse to relieve the watch. As we learn more about these men, the very nature of what is truth and what is personal perception becomes more unclear, leading us to wonder if we can ever really know what fact is and what is created by our own imaginations."
The Lighthouse will also tour to the St Magnus Festival, Orkney on 19 June and Buxton Festival on 17th July and 25th July.
Tickets: £18.50, £15.50, £12.50 (£15, £13, £10.50 concessions) £6 Young person.
Booking Enquiries 01524 594151
Booking online at www.lancasterconcerts.co.uk