Lancaster Leadership Centre to create leaders of the future
10/02/2003 17:18:16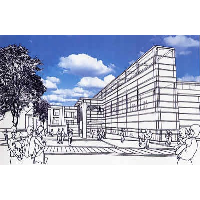 Lancaster University Management School is set to build on its strong tradition of research, thanks to £4.5 million from Northwest Development Agency (NWDA) and a further £5 million from Lancaster University.
The £9.5 m funding will extend and completely modify the School's building. The new facility will boast two additional 'Harvard style' lecture theatres, be host to the Lancaster Leadership Centre, have several dedicated high spec group work areas and an impressive Hub where executive teaching and events can take place.
The Hub area will also form a social space for students, staff and visitors, whilst there will also be syndicate and seminar rooms, an open plan research space and improved reception and waiting facilities.
The new world-class Lancaster Leadership Centre, which will assist over 10,000 Small and Medium Sized Enterprises (SMEs) over the next ten years, will also provide additional research and teaching facilities for a further 385 postgraduates, levering in a further £41 million.
The Centre, a significant expansion of the Management School's work with the region's businesses, will also focus on the needs of women in business and ethnic minority businesses, as well as assisting the progress of the region's rural agenda.
Professor Paul Wellings, Vice-Chancellor, Lancaster University, said:
"The University is delighted that the NWDA has prioritised co-investment in this centre of excellence. The project will enhance the assistance to regional enterprises as well as creating new research and teaching capabilities.
"Lancaster University Management School is internationally ranked and a leader among business schools in the UK. This investment will keep Lancaster at the forefront of a significant group of academic disciplines and, at the same time, enhance the economy of north-west England."
Professor Sue Cox, Dean of the Lancaster University Management School said:
"The generous support from the NWDA and Lancaster University demonstrates their confidence both in the outstanding research achievements of LUMS in the past decade, and our ability to deliver a major practical impact on the region's economy over the next decade. LUMS has shown that its research is of significant relevance to businesses in the region and beyond, and its rapidly growing outreach provision creates the means to ensure delivery. The major extension to our building made possible by this new funding will
create a world class facility of which the region can be proud."
Steven Broomhead, NWDA Chief Executive, said:
"The Agency is thrilled to support this flagship scheme, which will allow Lancaster University Management School to build on its excellent history of research. This exciting project will further invest in the region's skills base, as well as help to develop the entrepreneurs of the future. The importance of learning and skills cannot be underrated as an effective tool on which to build a successful economy, and this scheme is an excellent example of what can be achieved through partnership working."