Honorary degrees for film critic and scientist
12/19/2006 11:22:24
A distinguished film critic and a scientist have been honoured in a ceremony at Lancaster University.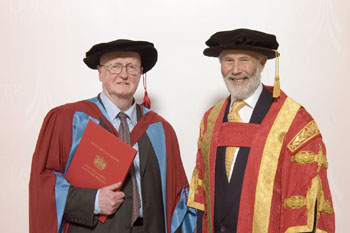 Philip French receiving his honorary degree from Sir Christian Bonington
The Observer film critic Philip French and the Chair of the Cockcroft Institute for Accelerator Science Dr Mike Dexter received honorary degrees from the University's Chancellor, Sir Christian Bonington, in degree ceremonies held in December.

Philip French has written widely on books, theatre and cinema for newspapers and magazines in Europe and America. He has been theatre critic and cultural columnist for The New Statesman, chief book reviewer of The Financial Times and deputy film critic of The Times.

Born in Liverpool in 1933, he served with the Parachute Regiment in the Middle East before studying law at Oxford. He studied journalism on a scholarship at Indiana University before returning to Britain in 1959. After working for the Bristol Evening Post, he moved to the BBC where he spent thirty years as a producer, specialising in the arts and American affairs. He also produced the Reith Lectures in 1972 and 1975.

He served on the British Film Institute's Production Board before becoming film critic for The Observer in 1978, later serving on the jury at the Cannes Film Festival in 1986. He has contributed to a number of anthologies and his books include The Movie Moguls (1969) and The Faber Book of Movie Verse (1993).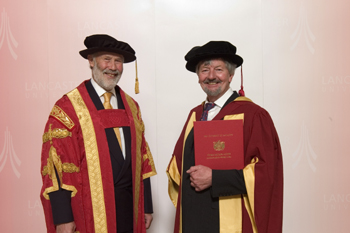 Dr Mike Dexter receiving his honorary degree from Sir Christian Bonington
Dr Mike Dexter is currently the Chair of the Cockcroft Institute for Accelerator Science, a joint venture of the universities of Lancaster, Liverpool and Manchester along with two research councils and the North West Regional Development Agency.

Prior to this, from 1998 to 2003, he was Director of the Wellcome Trust, one of the largest biomedical research funding charities in the world. He was responsible for a considerable increase in financial support for the biomedical and physical sciences through various initiatives, including the sequencing of the human genome. He worked on joint initiatives including the UK Biobank project and developed consortia with industry. Before moving to the Wellcome Trust, he was Professor of Haematology at the University of Manchester and Director of the Paterson Institute for Cancer Research at the Christie Hospital NHS Trust.

He is a Fellow of the Royal Society, a Founder Fellow of the Academy of Medical Sciences, Fellow of the Royal College of Pathologists and Honorary Fellow of the Royal College of Physicians.