Marketing works for seaside town
02/01/2006 10:13:11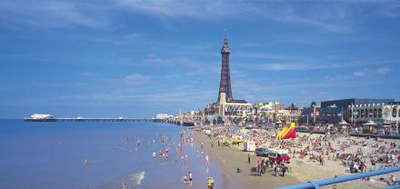 Blackpool hotels have been proving marketing really does work with the help of a new scheme led by Lancaster University.
Businesses across the seaside town have seen trade booming with the aid of some detailed advice from marketing experts.
The Blackpool Project was run as part of Marketing Works, European Regional Development Fund-backed project. Led by the Geography Department at Lancaster University in partnership with Blackpool Council, the project provides bespoke marketing activity and advice to the accommodation sector through a series of workshops and a marketing toolkit for businesses to take away and work through in their own time.
Project co-ordinator Kate Staley of The Tourism Centre, Lancaster University, said the scheme had offered support and advice to around 78 businesses and business owners who were already reporting positive results.
She said: "Those businesses that have really taken on board the help and advice available and then implemented that in their businesses have seen some astounding results"
One such business is the Vidella Hotel – a 29-bedroom hotel in Blackpool run by John Downer and Neil Williams.
Mr Williams said: "We were looking for ways to increase our midweek business. We attended a number of workshops as well as buying the toolkit. Using these tools we were able to implement lots of changes such as introducing more targeted marketing to our existing customers and making improvements to our website.
"As a result our midweek occupancy has risen from 28 percent to 70 percent and we have seen our gross profits improved by £1,400 per week.
"We also improved our New Year and Christmas marketing which has had good results. Last year that period was booked up three days in advance – this year it was booked up three months in advance.
"The improvements cost nothing or very little, we'd have been crazy not to take action."
The business also benefited from a Lancaster University graduate placement – which included 140 hours of work over three months.
Other success stories have included the Queens Park Hotel, Blackpool - a 13-bedroom hotel which has seen business boom by 25 percent and repeat business rise by 30 percent.
Owner Mike Fomes said: "We used the toolkit as a catalyst for new ideas. We introduced many changes including questionnaires for clients, new web links, and a newsletter. We have also changed the menus.
"When people come away they want to feel pampered. By listening to our customers we can make sure that they get exactly what they want."
The Seaton Guesthouse, a seven- bedroom hotel in Blackpool, has also seen major improvements in business.
Owner Rosemary Dakin was new to the sector and was keen to hear expert advice to get the most out of the hotel and the resort. She went on most of the Marketing Works marketing courses and also bought the toolkit.
As a result of her changes to the business she increased turnover by £15,000 and increased occupancy by 150 percent.
iIf you would like further information on the project contact Kate on 01524 594947. Alternatively she will be at the Caterama Exhibition on 14 and 15 March at Norbreck Castle Hotel, Blackpool.