Student Business attracts Pulitzer Prize winner
07/17/2007 14:10:08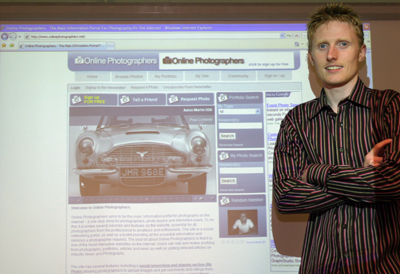 Andrew Hardman
A Lancaster University student has attracted a Pulitzer Prize winning photographer and BBC Wildlife Photographer of the Year Winner to his online business within weeks of setting it up.
Andrew Hardman, who studied Politics and International Relations and graduates this year, set up his business through Create, the Lancaster University Student Union project that helps students set up their own businesses.
Online Photographers (www.onlinephotographers.net) is an information portal for photography on the internet - a one stop shop for photographers, photo buyers and interested users.
Andrew said: "I wanted to create a website for professional and amateur photographers where everything they needed to know or have for their photography could be found on one site. Having a number of top professional photographers on there already – such as Brian Smith, a Pulitzer Prize winner whose work has been in LIFE Magazine and Vanity Fair and also Bryan and Cherry Alexander overall winners of the BBC Wildlife Photographer of the Year - has been a real coup and hopefully photographers of their caliber will attract more people to the website."
Andrew is himself a semi-professional photographer whose own work can be seen on the website.
He said: "I first got into photography when I was sixteen when I inherited some camera equipment and I've never looked back."
He said Online Photographers was a dream come true for him though he admitted that it had not been easy.
"Doing a degree and developing this business side by side has been hard work but when you get the sort of people using the site that I'm getting at the moment it's been worth it."
Online Photographers' early success means Andrew is planning rapid expansion.
In mid July he is hoping to launch a new area where members can set up their own photography website and display their pictures.
"If anyone has an interest in photography then I would recommend that they visit the site and see what they think."