Lancaster Language research triggers £750,000 Tesco investment
12/15/2006 10:26:08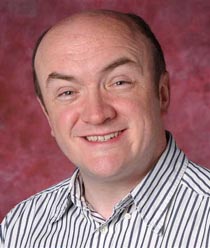 Prof Tony McEnery
Teenagers are at risk of being held back by their poor verbal communication skills according to research from Lancaster University.

New research by Professor Tony McEnery of the Department of Linguistics and English Language argues that it is important that we remember that teenagers are still developing their linguistic skills not merely in reading and writing, but also in oral communication. Schools need to focus on the development of speaking skills just as much as they need to focus upon the development of reading and writing.
His research comes in the wake of findings published by employers organizations, such as the CBI and the British Board of Trade, which show that employers are finding oral communication to be a significant area of difficulty for school leavers, views apparently endorsed by the Chief Inspector of Schools, Christine Gilbert, in evidence to the Commons Education Select Committee
Professor McEnery said: "Employers are complaining that first jobbers are lacking basic verbal communication skills and claim that things could be set to get worse.

"Kids need to get talking and develop their vocabulary. While the school curriculum shows a strong focus on literacy, speech has been relatively neglected in the curriculum."

Professor McEnery's research looked at the communication skills of 200 teenagers with an examination of 10,000,000 words of transcribed, naturally occurring speech from across the UK collated in a language database as well as 100,000 words of data gathered from blogs written by teenagers. The research clearly demonstrated that teenagers are still developing their oral communication skills, underlining the need to ensure that they are given appropriate support by schools in doing so.

David Frost, Director General of the British Chambers of Commerce, said: "This is a problem that our 100,000 member businesses highlight again and again. They tell us that too many school leavers do not have the basic communication skills that they need to get on in the world of work. Where UK businesses can't find employees with the right skills, they are employing more migrant labour.

"If we do not improve the communication skills of our young people, which are essential to the success of British business and the economy, we will be storing up significant social problems for the future."
In an immediate response to Professor McEnery's call for a focus on speech in the curriculum, Tesco's Schools Connect has announced a £750,000 investment in teaching materials and web 'phones for schools which will help them get involved in teaching verbal skills such as debating.