Lancaster graduates become army officers
05/10/2007 12:28:18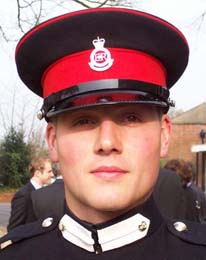 Ross Brookes at Sandhurst
A Lancaster graduate who joined the army found himself attending Sandhurst at the same time as Prince William.
Ross Brookes spent a year at the Royal Military Academy training to be an officer and was one of three Lancaster graduates in the passing out parade at Sandhurst this April.
He is due to serve in Afghanistan before completing his training to be a tank commander in the Royal Tank Regiment, when he will be in charge of 16 men at the age of only 24.
He said: "We used to eat all together in the dining room at Sandhurst and I spoke to Prince William a number of times in the dinner queue – he was really nice and didn't make too much of his status."
Ross won his commission in the army after completing a Masters in Diplomacy at Lancaster in 2005.
"Joining the army is more of a lifestyle than a job and it's been really good fun. They "beast" you in the first five weeks and you get only a few hours of sleep but everyone is going through the same thing so the team spirit keeps you going."
After lessons in tactics and strategy, leadership and the rules of engagement, the officer training at Sandhurst culminated in a fortnight's exercise in Cyprus with cadets taking turns at playing the part of rebel forces and security personnel.
Another Lancaster graduate to pass out at the Sovereign's Parade at Sandhurst was Andrew Nicklin, who graduated with a BA in Politics and International Relations in 2004 before joining the Royal Artillery.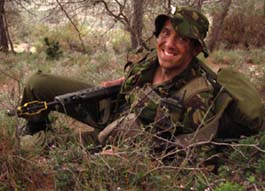 Andrew Nicklin on an army training exercise in Cyprus
He said his decision to join the army was helped by his experience in the Lancaster University Officers' Training Corps (UOTC).
"It gave me a good taste of what I could expect from life in the regular Army, and helped inform my decision to pursue a career as an Army Officer. I wanted to become an officer in particular because I have always enjoyed leading people, and wanted to take on this responsibility as early as possible.
"The camaraderie in the Army is second to none, I enjoy the outdoor physical lifestyle and it gives you the opportunity to go to new places and take part in adventures you simply would not be able to do in any other walk of life. Many of my friends sat in desk jobs back in London are very jealous!"
The third Lancaster graduate to pass out at Sandhurst was David Latimer who joins the Duke of Lancaster's Regiment. He graduated in 2005 with a degree in International Relations and Strategic Studies.