Bill Gates presents Excellence Award
07/30/2002 12:14:33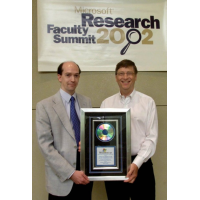 Lancaster University's Computing Department has received a prestigious Microsoft Windows Embedded Academic Excellence Award for invaluable development contributions to the Windows CE .NET platform. The award was presented by Mr Bill Gates of Microsoft to Dr Andrew Scott at the Microsoft Research Faculty Summit 2002, held on July 29th in Redmond, Washington.
Lancaster University has been working collaboratively with Microsoft for over 2 years, and has been heavily involved in the development of IPv6, a new set of standards that deals with an increasing number of devices connected to the Internet. The collaboration has resulted in the successful implementation of IPv6 into Windows CE.NET, version 4.1, Microsoft's real-time embedded operating system for building the next generation of mobile and small foot-print devices, which was officially released on 30th July.
At the Research Faculty summit, Bill Gates stressed the importance of working with academic institutions, "Collaboration between industry and academia is crucial to deliver on our shared vision for the future of technology and education."
Dr Andrew Scott, Senior Lecturer stated, "IPv6 is a key technology that will come into regular use over the next five to ten years, as more devices become connected and extended IP address support becomes a key requirement for Internet clients."
As one of the leading centres for networking and distributed multimedia research in the UK, the Computing Department continues to work with Microsoft, Cisco and Orange as part of its Mobile-IPv6 Systems Research Lab (MSRL) project. This project is investigating an extension to IPv6, known as Mobile IPv6, that allows mobile devices to seemlessly move between different networks, without any loss of communication.
The University campus will also benefit from this research, as the project is currently equipping various areas of campus with the Mobile IPv6 technology. The University is also working on bringing this technology to a site in Williamson Park in Lancaster, which is expected to be available later this Summer.