Success For Stem Cell Research Team
01/17/2008 15:38:08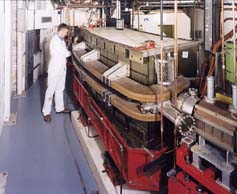 An engineer at work on the Synchrotron light source at the Daresbury Laboratory, photo courtesy of STFC
Lancaster University is at the forefront of groundbreaking research into human stem cells which could hold the key to treatments for cancer and other serious diseases.
The Department of Biological Sciences is leading an international team of scientists who have successfully located stem cells in the gastrointestinal tract and examined the chemical signature, or "fingerprints", unique to individual cells.
The research was carried out at the Daresbury Laboratory in Warrington, run by the Science and Technology Facilities Council, and utilised an extremely advanced and powerfully intense light facility, known as the Synchrotron (SRS) light source.
Stem cells could hold the key to providing effective treatment for serious conditions, such as cancer, and could be used to repair and replace diseased cells in the human body. They are present in many different parts of the body but locating them is a different matter altogether - researchers have been trying to locate the stem cell region in the stomach and intestines for several years.
Dr Frank Martin of the Department of Biological Sciences at Lancaster University, said: "This is a powerful development, building significantly on our current understanding of human stem cells, particularly on how we can locate them in the body and how they behave. Furthermore, this same technique could be now be used in other parts of the body where the location of stems cells remains unclear. This discovery has enormous potential for research into life threatening illnesses, opening up further possibilities of new treatments for cancer or serious injury to the body."
Dr James Nicholson at the Daresbury Laboratory said: "Daresbury's SRS light source was the first of its kind in the world and it's great to see it play a significant role in the future of medical research."
The full paper on this research is published in the January issue of Stem Cells: FTIR micro-spectroscopy identifies symmetric PO2- modifications as a marker of the putative stem cell region of human intestinal crypts.' Michael J. Walsh, Tariq G. Fellous, Azzedine Hammiche, Nigel J. Fullwood, Olaug Grude, Fariba Bahrami, James M. Nicholson, Hubert M. Pollock, Mairi Brittan, Pierre L. Martin-Hirsch, Malcolm R. Alison and Francis L. Martin.