The Gravity of Art
05/30/2008 12:46:11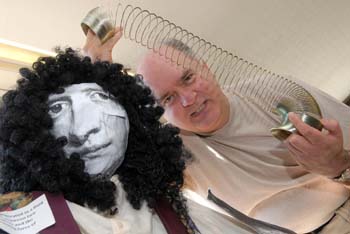 Director of Studies for the Universe as an Art Dr Chris Bowdery with a model of Sir Isaac Newton
Sir Isaac Newton made a rare appearance on campus when he formed part of an art exhibition designed to make science more accessible.
The Universe as an Art course is run by the Physics Department for non-science students who wish to learn about science without the mathematics. The course is an opportunity to gain an understanding of cutting edge research into topics like General Relativity without being weighed down by equations.
The art exhibition in the Faraday Lecture Theatre foyer challenged the students to create artwork to illustrate the scientific ideas covered during the Part 1 course. Topics this year included Gravity and General Relativity, Neutrinos from the sun, Pulsars, and Electrons and Light.
The Director of Studies for the Universe as an Art course is Dr Chris Bowdery.
He said: "This course is probably unique in the country in presenting frontier physics, astronomy and cosmology to students with no science background – in 25 weeks. We do not aim to turn arts students into scientists – just to give them an insight into the exciting world of science. Although many people think that physics is boring and irrelevant to them, everyone is surrounded by hi-tech gadgets which are the product of a century of physics endeavours."
The undergraduates - from a wide variety of subjects from Music majors to History - then worked together to produce artistic representations of the topics. This year has produced a wide range of contributions, from models of lasers and CDs, videos shown on plasma screens about the slowing of time close to the speed of light, and posters about light. Students were responsible for planning, designing and constructing the art as part of a team.