Habitats
03/16/2005 12:38:04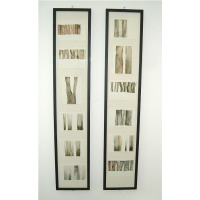 Artists and scientists come together to explore the theme of habitats in an exhibition in the Lancaster Environment Centre.
The Art and Science of Terrestrial and Aquatic Habitats will be held March 21st – April 30th 2005
The aims of the project are to bring artists and scientists together to explore the theme of habitats and to demonstrate the varied ways that scientists and artists visualise habitats at different scales and using different methods and media contributions from artists and scientists include art from Jane Rushton, Lynda Gray, Kate Eggleston-Wirtz, Andy Goldsworthy, Paul Kenny, Alan Stones, Keith Beven, Richard Bardgett, Jackie Parry, Trevor Piearce, Jim Freer, John Quinton, Helaina Black, Bill Davison, and Andy Binley.
The exhibits mostly relate to a particular set of terrestrial and aquatic habitats at and close to Tow Top in the South Lakes.
The Habitats project has been supported by the Biotechnology and Biological Sciences Research Council and the Friends of the University and was prepared as an event for National Science Week when more than 250 6th form students visited the Environment Centre. The exhibition will be open to the public until 30th April.