Will the Lights Go Out?
12/07/2004 10:07:11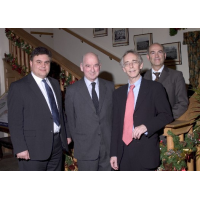 More than 200 delegates attended a Lancaster University conference exploring the looming world energy crisis and the threat of climate change.
The one-day conference titled 'Will the Lights Go Out?' brought together some of Europe's leading experts in energy policy and alternative energy supply in an event which outlined the energy problems that the world is facing and addressed some of the potential solutions.
Renewable energy options, nuclear power and the threat of global warming were all debated at the conference on Tuesday, December 14.
The conference - organised in conjunction with the Northwest Regional Development Agency (NWDA) - was jointly sponsored by the Government Office for the North West and the Northwest Energy Council. It was designed to appeal to environmentalists and amenity pressure groups as well as to researchers working on alternative energy and the hydrogen economy.
Speakers included
●Cristóbal Burgos-Alonso, Director General for Energy of the European Commission
●Sir Christopher Audland, Director General for Energy of the European Commission 1981 to 1986
●Dr Brenda Boardman, head of the Lower Carbon Futures Team at Oxford University's
Environmental Change Institute
●Sir Martin Holdgate, Chairman of the Government's Energy Advisory Panel
●Mr Keith Anderson, UK strategy and external affairs director at Scottish Power
George Aggidis, Director of Lancaster University Renewable Energy Group and Chairman of the Conference Organising Committee, said the event had been an excellent opportunity for key players in the energy business to exchange ideas and opinions.
He said: "Falling UK gas supplies mean that the UK is no longer going to be energy self-sufficient possibly within a couple of years. This is a big change and a comfortable transition needs careful preparation.
"Rising energy prices, global political instability and the fragility of power supply in both the US and Europe have challenged the UK's energy policy. It is particularly clear that our electricity supply infrastructure is inadequate, and in this context public debate on overall energy policy is essential.
"The Lancaster Conference recognises that energy policy is not simply a technical question. It has to include local environmental issues, global warming, international politics and economics but also has to be grounded on what is technically possible."
Steven Broomhead, NWDA Chief Executive, said: "A secure, reliable and competitive energy supply is essential to every person and every business in the region, making energy a priority of the Agency. The energy sector contributes around £5 billion, with exports worth around £1.2 billion to the regional economy. There are also 50,000 people employed in energy businesses in the Northwest. In recognition of the importance placed on this sector we are pleased to support this innovative conference on energy policy."
http://www.engineering.lancs.ac.uk/energyconference