Creative Arts
05/03/2007 09:42:57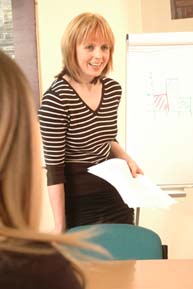 Dr Sarah Lenaghan
The chance to study everything from photography to literature will be on offer this summer at the second Creative Arts Festival in Cumbria organised by Lancaster University and the Theatre by the Lake in Keswick.
The multi-disciplinary festival is a week long celebration of the arts from painting and creative writing to film, photography and literature from June 2-10.
The Festival is open to all and offers the chance to unleash hidden artistic talents and extend existing skills in the creative arts. There are courses on Writing for Performance, Exploring Methods and Processes in Painting, Landscape Photography and British Film Comedy.
Dr Sara Lenaghan is the co-ordinator of the Creative Arts Festival and is the Curriculum Co-ordinator for Humanities and Creative Writing at the Department of Continuing Education at Lancaster University.
She will be teaching a short course on Daphne du Maurier's mystery novel Rebecca as well as du Maurier's Restoration romance, Frenchman's Creek, and the smuggling drama, Jamaica Inn.
Students on her course will also be able to see Rebecca performed at the Theatre by the Lake.
Dr Lenaghan said: "This offers the chance to study the arts in beautiful surroundings so people won't feel like they're doing a course but instead they'll be enjoying themselves as they learn.
"There aren't many multidisciplinary festivals and we're offering something for everyone so I'm sure we'll attract even more people this year. This festival is aimed at anyone who wants to try something new and knows that they already like the arts and humanities."
Festival-goers will also be able to take part in a day of free activities at the Theatre by the Lake. There will be the opportunity to meet the theatre's Executive Director, Patric Gilchrist, and join him for a behind-the-scenes tour of the theatre. And there will be the chance to join a discussion that Patric will chair on the future of regional theatres and a workshop with Mike Eccles, Co-ordinator of the Theatre's New Directions Youth Theatre, on the role of theatre in our local communities.
The courses are open to adults of all ages, regardless of previous experience, and beginners as well as those with some expertise are welcome to come along. The course fees are £32 (£14 for concessions); please note that participants must enrol at least a week before the start date. To enrol, contact the Department of Continuing Education at Lancaster University on 01524 592623/4.