New Think Tank at Lancaster University
12/01/2005 10:16:08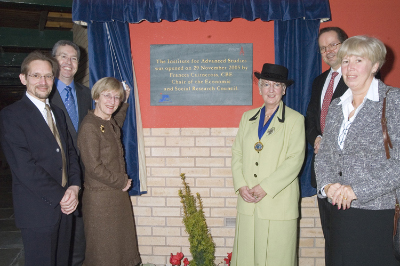 From left: Professor Jessop, Professor Wellings,
Frances Cairncross CBE, Deputy Mayor Shirley Burns,
with Faculty Deans Professor Gatrell and Professor Cox.
Lancaster's new Institute for Advanced Studies (IAS) was officially opened by Frances Cairncross, CBE, Chair of the Economic and Social Research Council and Rector of Exeter College, Oxford, on 29th November 2005.
The new Institute, modelled on the famous Princeton example, is the first of its kind in the UK to have an annual thematic research programme at the core of its many activities.
Research will be based around broad themes and it will draw on different disciplines in the Arts, Social Sciences and Management to tackle crucial contemporary issues with wide-ranging policy as well as intellectual implications.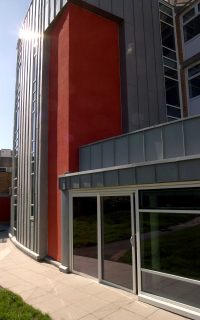 Institute for Advanced Studies, Lancaster University.
Frances Cairncross said: "The IAS aims to work across disciplines in many innovative and exciting ways. It plans to break down academic barriers, and to make connections. It will be an ideal location for the kind of cross-disciplinary work which often begins around the communal coffee pot and biscuit tin, and broadens into fresh and important perceptions of the way the world works."
Professor Bob Jessop, Director of the IAS said: " This is a major initiative signalling Lancaster's commitment to scholarship that pushes well beyond narrow departmental and disciplinary boundaries.
"Reflecting its world-class reputation for inter- and post-disciplinary research in the social sciences, the flagship activity of the IAS is a series of year-long thematic research programmes chosen on a competitive basis to enable international and national scholars from different disciplinary backgrounds to work on a common research problem that is significant both intellectually and in terms of its implications for the real world."
IAS launched its first Annual Research Programme on The Knowledge Based Economy in October and will hold 18 workshops through which a wide range of local, national and international participants will consider the KBE as a leading economic and social paradigm.
The Institute brings together staff from 5* and 5 departments in the Faculty of Arts and Social Sciences with the top rated Management School. It will also encourage cooperation with researchers from other faculties and from universities elsewhere in the United Kingdom, Continental Europe, and the rest of the world.

The ground floor of the new research centre provides a 'front door' for IAS and other Arts and Social Science Faculty research activity and the second and third floors host externally-funded interdisciplinary research groups.

You can access the video for the opening from the faculty homepage http://www.lancs.ac.uk/fass
or from the IAS home page http://www.lancs.ac.uk/ias