Westminster Showcase for award-winning Volunteer project
07/01/2009 09:35:58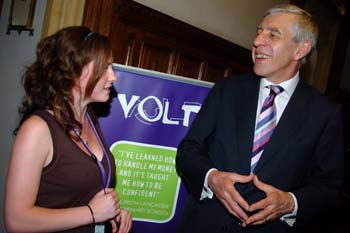 Debbie Wilkie with Jack Straw MP
Jack Straw has praised 'inspirational' young volunteers who are changing lives across the North West.
The youngsters aged between nine and 21, are all part of Voltage, Lancaster University Volunteering Unit's flagship project, which helps young people to start their own social enterprises.
They went to Westminster to explain how they have tackled problems from homelessness to mounting landfill by setting up their own businesses and using the profits to make a change. The event on June 30 was hosted by Jack Straw MP, Lord Chancellor and Secretary of State for Justice, and Mr Ben Wallace, MP for Lancaster & Wyre.
Among the volunteers at the event was Debbie Wilkie , a student at Blackpool and Fylde College who used her own experience of homelessness to inspire positive action among her peers.
The 17-year-old helped set up a business called Earth growing plants and selling greetings cards for profit which was then given to Streetlife Trust - a charity for young homeless people. She has also begun going into primary schools talking about her experience of being homeless.
Debbie said: "Meeting Jack Straw was fantastic and I hope he and the government do everything they can to help the work projects like Voltage do to help the homeless and needy people in our community. Voltage is fantastic. It has given me confidence to try to run a business – something I'd never thought about before. "
Jack Straw said: "Young people often get a bad press but what Debbie and the Voltage project are showing is that if we focus on unlocking their talent they can find ways to improve their communities and our society.
"Debbie's focus and desire to improve, showcased today at this Lancaster University Volunteer Unit event, is inspirational."

LUVU's director Ben Matthews said: "Voltage has tapped into the outstanding enterprising spirit in the schools and colleges across the region. Young people are naturally ambitious and full of brilliant ideas. Voltage gives them the skills and experience to turn those ideas into reality, giving them a sense of their own power to make a positive change locally and nationally. We're really proud of them."
Voltage is the first project the first of its kind in the UK and the scheme won praise from Prime Minister Gordon Brown when volunteers visited 10 Downing Street earlier this year.
LUVU has received national acclaim for its work with young people across the North West.This academic year alone, 450 students have delivered initiatives that have made a real difference to the lives of 5,500 young people across Lancashire.