In Business with InfoLab21
08/19/2005 12:56:02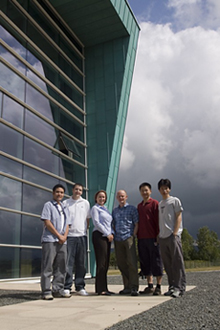 Students Larry Chung, Andy Rosbrook, InfoLab21 Business Development Manager Justine Parkinson, Managing Director of Ultima Thule Carl Spencer and students, Tony Tong and Zhifeng Fan
A Lancashire business has teamed up with Lancaster University's InfoLab21 to develop innovative new software and expand their business.
Addressing the growing need to monitor the Internet, Ultima Thule Technology Ltd specialises in using bespoke search engine technology to perform business research, market research and business intelligence.
With the help of a team of Lancaster University students from the Computing, Management and Communications Systems Departments, the company has been able to construct a working prototype for a new automated business intelligence system. This software is now being trialled with a number of blue chip organisations.
The student software-development team – which included three MSc E-business and Innovation students and a BSc Student in IT and Media Communications – provided an invaluable, skilled resource in Ultima Thule's office over a number of months. The team worked on market analysis, product strategy, technical feasibility as well as software development and implementation.
The Wigan-based company decided to relocate to the purpose-built Knowledge Business Centre in InfoLab21 in April this year. The move enabled them to take advantage of this state-of-the-art Information Communication Technology Centre of Excellence which specialises in technology transfer.
The company, which has been running for four years, had a number of new ideas and was keen to work with the University in order to develop them further.
Managing Director of Ultima Thule Carl Spencer said his company had seen enormous benefits from working with the University.
He said: "We were attracted to relocating firstly to access links with the University. The move to InfoLab21 has brought lots of benefits ranging from networking opportunities to sharing ideas and access to research expertise. The move has given us an improved working environment and it has boosted the company's credibility."
The student software development team were also pleased to gain practical work experience with a growing company.
Tony Tong, one of the MSc students, said: "We have gained relevant, hands-on experience and been given exposure to cutting-edge technology. Through working with the company we can demonstrate to employers that we can communicate and work professionally as a team. We have also been able to network with staff from different university departments."
InfoLab21 Business Development Manager Justine Parkinson said the collaboration had been a success on all sides.
She said: "There was a great deal of synergy between Ultima Thule's business and our expertise in InfoLab21. This is a good example of knowledge and technology transfer enabling a company to achieve part of its business plan on time and to budget."