'Ice Cream' Queen inspiring Lancaster entrepreneurs
12/08/2010 00:00:00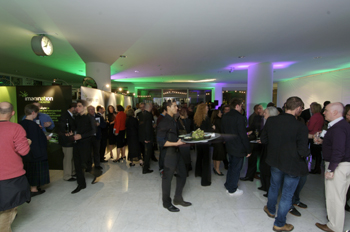 Peter Jones and Kirsty Henshaw
A successful businesswoman who developed an alternative to ice cream and won the backing of not one but two of the BBC's business Dragons has been to talk to aspiring entrepreneurs at Lancaster.
Healthy frozen desert brand pioneer Kirsty Henshaw, was the keynote speaker for this term's Enterprise in Heels event – a workshop for business-minded female students - held on December 9th.
The single mum started up her ice cream business Worthenshaws when she found out that her son had allergies and couldn't enjoy ordinary ice cream like other children.
Kirsty, who is from Preston, Lancashire, worked two jobs plus a part time evening job to help get her business off the ground.
During an emotionally charged appearance on BBC 2's Dragon's Den earlier this year, her product , business acumen and work ethic convinced both Peter Jones and Duncan Bannantyne to invest in her company - £65,000 for a 30% stake.
Alongside Kirsty, Rachel Haslam from Team Academy spoke to the students about confidence building and the importance of having a vision. Lancaster Alumna Nikki Hesford, founder of Miss Fit UK, also went on to talk about turning a business vision into a reality.
Enterprise in Heels is a series of events run by LUSU aimed at female students who have an interest in business and enterprise.