Lancaster University Volunteering Unit Wins National Award
12/10/2003 16:05:05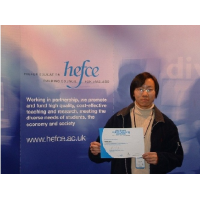 LUVU has been awarded at the National HEFCE Student Volunteering Awards held at Manchester's Old Trafford Stadium. The award is the result of work student volunteers have completed at the Lancaster and District Homeless Action centre. The recognition comes after almost a years work for 11 of LUVU's volunteers. The team have helped the staff of Homeless Action overcome the problems they faced in managing the donations they receive from the general public.
The judges commented that the project was particularly valuable as it allowed the organisation to build its capacity in a sustainable way - this was always the key aim of the Active Community Fund HEFCE created [through which LUVU is funded].
In addition to this LUVU has been informed both its "Volunteer Handbook" and "Framework to Manage Volunteer Projects" are likely to be included in the HEFCE Best Practice Guide for Student Community Action Groups in February 2004.
To READ MORE visit www.luvu.org.uk and then click NEWS