£5 million initiative to boost Northern leadership
02/01/2006 10:33:43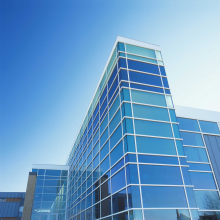 Lancaster Leadership Centre
A £5 million flagship initiative to strengthen leadership across the North of England has been announced by the three Northern Regional Development Agencies (RDAs), with the creation of a new Northern Leadership Academy (NLA) based at Lancaster University.
Developed by the Northwest Regional Development Agency (NWDA), the NLA will be led by a consortium including Lancaster University Management School (LUMS), Leeds University Business School and the University of Liverpool Management School and supported by a range of public and private sector organisations across the North.
The Academy, a key component of the Northern Way Growth Strategy, aims to build a more entrepreneurial North by providing new opportunities for leadership development for existing leaders and those with leadership potential throughout the North, in business and within communities. The initiative will help to identify the leadership gaps that are most significant in ensuring the Northern regions close the North-South productivity gap, to attract talented individuals back to the North and to increase the number of business start-ups.
The programme of activity will include the creation of a think-tank which will enable the NLA to provide advice on leadership and enterprise development, as well as undertake research projects and regeneration studies on behalf of partners. An e-learning programme will also allow access to leadership information and research information online, which will be complemented by the development of a network of ICT hubs within partners' premises, universities, schools and community centres. A rolling programme of masterclasses, mentoring and scholarships across the education community in the North will also help to champion leadership.
Steven Broomhead, NWDA Chief Executive, said:
"The North has a strong history of entrepreneurship, having produced some of the country's greatest leaders. To attract, grow and retain inspiring and enterprising individuals within our businesses and communities, and to ensure the North reaches its full potential, it is vital that we continue to build and nurture a strong enterprising culture. This must go hand in hand with building strong and effective leadership. This flagship initiative will help to strengthen our capacity in this area, ensuring that we have the tools to establish the North of England as a place of exceptional opportunity for the leaders of the future."
Vince Taylor, The Northern Way's Director of Implementation, said:
"If we are to be successful in transforming the North into a area of exceptional opportunity then leadership in the North must be transformational too. This requires us to put in place something over and above the traditional business school or leadership programme. This collaboration, led by Lancaster University Management School, has demonstrated just such a capability."
Professor Sue Cox, Dean of Lancaster University Management School, commented:
"Lancaster University Management School welcomes the opportunity to host the Northern Leadership Academy, and to play a leading role with our partners from Leeds University Business School and the University of Liverpool Management School. We are excited by the challenge of building a successful and sustainable Northern Leadership Academy. However, we all recognise that this success will be founded on strong partnerships and the support of a large and growing number of organisations across the North."