Location-based mobile blogging invented at InfoLab21
09/05/2006 17:02:40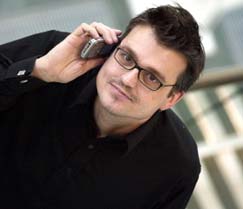 Dr Paul Coulton
The next phase in the development of the internet, the so-called Web 2.0, is taking place not in Silicon Valley but on the green and leafy campus of Lancaster University.
Academics in the Department of Communications Systems are busy designing the next generation of mobile phone applications - and they want your input.
Their latest invention – location based mobile blogging (LocoBlog) – is released into the wild this month and they want feedback from users.
"Locoblogging" is an example of one of the expected high-impact technologies for Web 2.0 - the 'mashup', which is application that uses content from more than one source to create a completely new service.
Their application allows users to compile a log of photos and text from their mobile phone, which is tagged with their current location obtained by the phone connecting to a GPS receiver via Bluetooth. The application sends this data to a website running Google maps so that a travelogue of their journeys can be created whilst they are on the move.
Dr Paul Coulton, head of mobile game research, said: "It allows people to create a travelogue not just in the linear time of traditional blogs, or pictures sharing sites, but across space too so you get a feeling of the journey the user has taken.
"Also you don't need a computer or digital camera, just any mobile phone and you then send the photos to anywhere in the world and then people can follow your journey as it unfolds."
He developed the idea after working on a project recording children's health while walking to and from school.
His colleague, PhD student Will Bamford, said he envisaged people using location-based mobile blogging in different and unexpected ways.
"My brother is into climbing and if he finds a good route up a mountain he's going to blog his position using the phone and show other climbers. As with traditional blogs and picture sharing we can see lots of potential for users to create novel uses for the system.
"Maybe tourist sites could use it to show the best routes around a city or students on a gap year could use it to show their parents where they've been."
They are now waiting to see how some of the world's estimated 100 million bloggers react to their site www.locoblog.com.
Anyone who is interested in participating in the trials can have the application sent direct to their mobile phone.
Dr Coulton said: "Although we have developed it to commercial standards, we want feedback from a wide range of users to see how they use it, how it can be improved and their overall perception of the experience."
His invention is likely to be keenly watched by mobile phone companies, as this type of location based service is seen as having enormous potential in future mobile experiences.
Dr Coulton has already been recognised as one of the top mobile developers worldwide with the award of the title of Forum Nokia Champion earlier this year.The award is given to only 50 members worldwide, from a community of over 2 million, considered by Nokia to be "outstanding talents in our community."
Nokia also supports the university's MSc in Mobile Game Design & M-Commerce Systems – one of the leading courses on mobile applications development in the world and the only course in the UK to teach mobile phone game design.
The Department of Communications Systems provides academic research for InfoLab21, Lancaster University's £15m world-class centre in ICT.
www.locoblog.com