Honorary Fellowship for Lancaster Professor
03/02/2005 11:50:31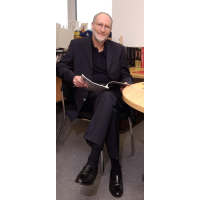 A Lancaster University Professor has been awarded a prestigious Honorary Fellowship by a Faculty of the Royal College of Physicians.
Professor Cooper, who is well-known for his work on Organisational Psychology, health and stress in the work place, was awarded the Honorary Fellowship by the Royal College of Physicians' Faculty of Occupational Medicine.
The Faculty awarded the Honorary Fellowship in recognition of Professor Cooper's 'considerable contribution' in the area of work-related psychological ill-health.
He will be formally awarded the title at a dinner on May 19th.
Professor Cooper, who is based in Lancaster University Management School, is also Lancaster University's Pro Vice Chancellor for External Relations.
He said: "For a Psychologist to be honoured by this distinguished medical body is overwhelming. I'd like to thank them for having confidence in my work and for recognising how important the field of occupational stress to the field of occupational health."
Professor Cooper holds many distinctions, including: CBE (Commander of the Order of the British Empire, awarded 2001), Fellow of the British Psychological Society, Honorary Member of the Psychosomatic Research Society (of Great Britain), Fellow of the Royal Society of Arts, Member of the Royal Society of Literature, Fellow of The Royal Society of Medicine, Fellow of the Royal Society of Health, Fellow of the British Academy of Management, Companion of the (British) Chartered Management Institute, Fellow of The (American) Academy of Management, Academician to the Academy of Learned Societies for the Social Sciences.
He has also been a temporary adviser to two United Nations agencies: the World Health Organization and the International Labour Office on `Occupational Stress and Health'. He was recently special advisor to the Defence Committee of the House of Commons on the Duty of Care enquiry involving Deepcut and other military training establishments for young recruits, the Report of which was announced on Monday, 14th March.