Investor in People Award
10/11/2002 17:16:36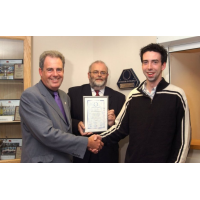 Lancaster University's Students Union is the fourth Department to be awarded the prestigious Investor in People Award, following an assessment carried out by the Learning and Skills Council, Lancashire and Business Link. The award depicts high levels of achievement in areas including the induction process for new employees, the communication between employees and planning and support for appropriate training. Considering the majority of staff, some 120, within the SU are part-time and primarily students, this is an exceptional accomplishment.
The award was presented by Tim Callaghan from the Learning and Skills Council on 10th October. Peter Elliott, Student Union General Manager, said, "We are very pleased that efforts made to improve the Student Union have been recognised. It really is a credit to all staff that work here. Our main objective is to make our staff feel valued within the workplace. It is our intention to improve on current practices to maintain such an award."
Liam Danby, President of the Students Union added, "We are an organisation committed to providing services to students to the highest possible standard. The Investor in People award shows that LUSU is committed to ensuring that staff are aware of the vital role they play in this and that they have the skills to make it happen."
The SU is the fourth area of the University to receive such an award, illustrating the continued dedication by the University to build on opportunities for staff. The newly opened Staff Learning Centre also functions as a resource for staff.