Lancaster loses much loved academic
06/29/2001 09:37:38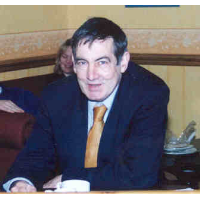 A FUNERAL SERVICE was held in the Chaplaincy Centre where the Rev Kevin Huggett conducted a moving and fitting service to celebrate the life of Gordon Inkster, lecturer in European Languages and Cultures and editor of Inkytext who died suddenly on Wednesday 18th July from bronchial asthma.
Professor Dick Geary from the University of Nottingham, Professor David Denver from Politics and Dr Naaman Kessous from European Languages and Cultures gave accounts of Gordon's generous, liberal and sometimes eccentric character, a man with a razor sharp intelligence and wit.
Mourners heard of a man who took pleasure in the achievements of others, especially his family and friends, equally at home in the cafes of Paris as in the pubs of Edinburgh, a man who befriended people from all walks of life and someone who knew and was known by everyone.
Gordon came to Lancaster in 1969, after active involvement with student demonstrations in Paris, to lecture in the founding department of French Studies. His talent for well informed comment was evident from his contributions to Lancaster Comment, a fortnightly magazine which began in 1970. This was an independent student/staff initiative and started a tradition of airing outspoken views at Lancaster. Gordon went on to have a double page spread in Lancaster Comment called Ink Blots and, after the magazine folded, he launched the email Inkytext in the latter days of Vice Chancellor Harry Hanham. Through Inkytext, Gordon accurately warned about the dangers of over expansion of the campus, informed and entertained his readers. An elucidator and interpreter, Gordon was also a respected scholar and teacher. He stopped publishing Inkytext a year ago and was a generous supporter of and regular contributor to Vickytext, the email staff bulletin.
An obituary will be written by Profesor Dick Geary. An archive of Inytexts is kept by Barry Rowlingson(Maths and Stats) http://www.maths.lancs.ac.uk/~rowlings/Inkytext
A Book of Remembrance for Gordon is now in the Chaplaincy Centre Concourse area, and all are welcome to contribute their thoughts and memories, which will be passed to the family. Gordon leaves his wife Maggie and two daughters, Catherine and Claire.