Sugar and Spice lecture
01/21/2005 13:54:12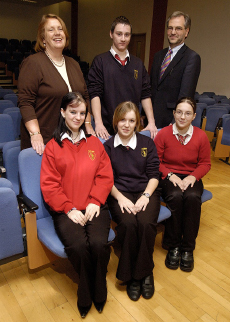 Prof Anne Garden and Prof Trevor McMillan with pupils from Walney School
Sugar and spice and all things nice went under the microscope at Lancaster University this week in a special lecture for hundreds of the region's youngsters.
The lecture titled 'Is it really sugar and spice and all things nice?' showed how chromosomes determine our gender- what makes a boy a boy and a girl a girl.
More than 240 year 10 to 13 pupils from 11 schools across Lancashire and Cumbria attended the talk delivered by Anne Garden, Director of Medical Studies at the University of Liverpool, on Wednesday, January 12.
Professor Garden is a Fellow of the Royal College of Obstetricians and Gynaecologists. She was invited to give their annual 'Christmas Lecture for Young People' in December and she kindly agreed to repeat the lecture at Lancaster for a North-West audience.
Professor Trevor McMillan , Lancaster University's Dean of the Institute of Environmental and Natural Sciences, welcomed students to the event, held in the University's George Fox lecture theatre.
Some school groups also had the chance to find out more about university life in a short talk followed by a tour of the campus.
One of the teachers to bring a group to the University was Andy Higgs, head of science at Walney School, Barrow-in-Furness.
He said: "This is a fantastic opportunity for our students to see a university and to discover what's out there for them. By the time they are in the sixth form it is sometimes too late. This is absolutely the time to do it."
Schools attending the lecture included:
St Bernard's Catholic High School, Barrow
Walney School, Walney, Barrow
Barrow Sixth Form College
St Mary's Catholic College, Blackpool
Blackpool Sixth Form College
Brownedge St Mary's RC High School, Bamber Bridge, Preston
Lancaster Girls' Grammar School
Queen Elizabeth School, Kirkby Lonsdale
John Ruskin School, Coniston
Ivy Bank High Business and Enterprise College, Burnley
Accrington St Christopher's High School, Accrington