Student ambassadors recruit BME students to Lancaster
11/01/2007 09:11:50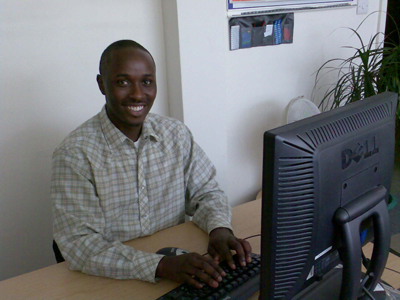 Gabriel Ologitere
Current Lancaster University students are working as ambassadors for the University in a project focussing on recruiting Black Minority Ethnic (BME) students to Lancaster. Lancaster undergraduates, themselves from BME backgrounds, are visiting their previous and other school sixth forms, colleges and HE fairs across the UK, highlighting the benefits of studying at Lancaster.
Eight BME Student Ambassadors have been recruited to the scheme to work as on-campus tour guides, attend HE conventions and to build partnerships with their old schools, developing and strengthen links to Lancaster with both staff and pupils.
Gabriel Ologitere and Yinka Alli-Balogun, two student ambassadors trained by Lancaster's UK Student Recruitment Office (UKSRO), have already attended the Higher Education Convention in West London which was visited by 7,500 predominantly BME Year 12 students and given presentations in six London schools. Their work has been extremely successful in generating interest in Lancaster, and in suggesting several areas for future development.
Gabriel, who studied International Relations and Strategic Studies, said: "The young people I talk to mainly want to know where Lancaster is and what the University can do for them and because I am close to their age and have a similar background I think they listen to what I say. I got a lot out of my time at Lancaster and really enjoy telling others about it; especially its world class academics and the students studying there from all different backgrounds."
Both students have now graduated and returned to London, keen to develop the links they have made.
Director of the UKSRO, Roger Gould said: "These projects are good example of using the best ambassadors we have, our students past and present, to inform groups of prospective students who are underrepresented in Higher Education about how special Lancaster really is. Because our students enjoy their time here they're very keen to spread the word to others, especially about Lancaster's friendly collegiate system, the superb campus and the world-class academic reputation."