The Nuffield Theatre Wins Arts Council Award
12/01/2008 09:03:30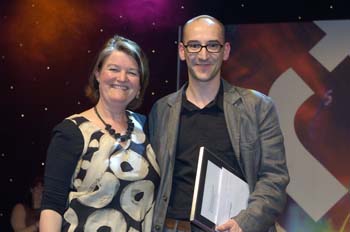 Aileen McEvoy of the Arts Council England, North West with Matt Fenton
The Director of the Nuffield Theatre says he is delighted with an award from The Arts Council for an innovative project to allow artists and local residents to choose the programme.
The art08 awards ceremony, which was hosted by comedian and writer Dave Spikey, was the region's fifth annual cultural celebration of the arts, organised by the Arts Council England, North West in partnership with the Northwest Regional Development Agency (NWDA).
The Nuffield Theatre won in the category Inside/Outside/Online, celebrating where great art has found its way into people's lives in new and exciting ways.
Matt Fenton said: "We're absolutely delighted with the award. The whole project has been about opening doors and getting the audience participating. This gives us the confidence to keep on experimenting. Tthere is now a real awareness at regional level of what we are doing and its value. It actually felt like a huge risk at the time but it worked out really well."
He received £500 for an artwork in the Nuffield Theatre foyer as a reward for an innovative experiment which saw artists and locals curating a year-long series of performances last year.
Fifteen artists were invited to choose the most exciting performances they had seen, and the resulting recommendations became the Autumn 2007 season. The experiment was then extended with a group of seven local residents from Lancaster and Morecambe who responded to an advert in the local press, and who chose the shows for Spring 2008. The result was one of the Nuffield's most successful and popular programmes in recent years.
Aileen McEvoy, Interim Executive Director of Arts Council England, North West said: "We've been delighted with the rich variety and excellent standard of work we've been judging from the region as part of art08. All our art08 award winners have demonstrated their dedication to delivering the kind of fantastic work that inspires us and brings us together, making the North West a better place to be."