PETER SCOTT GALLERY EXHIBITIONS - Irène Manton Centenary Exhibition
02/05/2004 14:16:12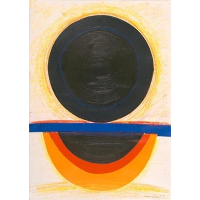 An exhibition of modern works from Lancaster University's Manton Collection is on display at the Peter Scott Gallery until 19 March, to celebrate the centenary of the eminent scientist Professor Irène Manton FRS (1904 - 1988). Professor Manton was an Honorary Research Fellow in Electron Microscopy at Lancaster University. She had a strong interest in visual art, and over the years built up a diverse collection of prints and paintings by artists from across the globe.
This exhibition focuses on twentieth century European works, and also features watercolours and prints by Japanese and Chinese artists. Professor Manton first began to collect abstract works after meeting Sir Terry Frost in 1954, when he was a Gregory Fellow at Leeds University. A number of works by Sir Terry Frost are exhibited to illustrate Professor Manton's initial interest in what she termed 'modern' art. The exhibition also features a selection of works by optical artist Peter Sedgley, including a kinetic lightwork on loan from the artist.
The Peter Scott Gallery is pleased to present this exhibition in a year which marks the 30th anniversary of the gallery and 40th anniversary of Lancaster University, as well as Professor Manton's centenary.
Image - Blue Black Sun, Sir Terry Frost, 1986, Manton Collection, Lancaster University, courtesy of the artist's estate