Quarter of a million pound grant to boost business innovation
05/03/2007 09:39:37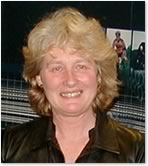 Professor Mary Rose
A £266,000 project has been awarded to Lancaster University Management School to investigate how to promote innovation in the UK economy.
Prof Mary Rose of the Institute for Entrepreneurship and Enterprise Development (IEED) will lead the three year project which is supported by the Advanced Institute of Management Research (AIM) with funding from the ESRC.
Prof Rose's innovation project is entitled "Knowledge and Technology Transfer, Innovation and Competitive Advantage: Past and Present."
She said: "What is distinctive about this project is that it looks at both the past and the present to understand the social processes that facilitate knowledge and technology transfer and the forces that inhibit it. It will explore the relationships between business and universities in the past and compare them with the post Robbins era to consider what changed and the impact this had on business/university relationships. It will explore the importance of social processes to successful technology and knowledge transfer, the importance of dialogue and the development of shared understanding."
Prof Rose said that the IEED's LEAD programme is a successful example of Knowledge Transfer, with companies which have attended the course reporting an average increase in sales of £200,000.
"LEAD is a flexible learning model which was adapted to suit the business needs of those who attended. It's not just about giving out advice but also enabling peer to peer interaction so they can learn from each other."
Prof Rose will work on the project with Dr Sarah Jack and Dr Sarah Robinson of the IEED as well as Dr Nigel Lockett of InfoLab21's Knowledge Business Centre and Dr Moira Decter, who will be working on her second PhD comparing technology transfer in the UK and the US and will be supervised by Prof Rose and Dr Frank Cave of IEED.
The project is one of eight in the UK being funded by AIM in order to improve Britain's competitive edge in a global marketplace. Among the others is one by Dr James Wilsdon, a senior research fellow at the Institute for Advanced Studies at Lancaster who also leads the science and innovation programme at the thinktank Demos. His project will look at some of the factors affecting R&D collaboration between the UK and China.
Prof Andy Neely, AIM Deputy Director, said: "AIM is pleased to be supporting such talented scholars, each with the skills necessary for ensuring the success of this initiative, both in the UK and internationally."