Seed corn funding for budding ideas
01/26/2006 10:40:02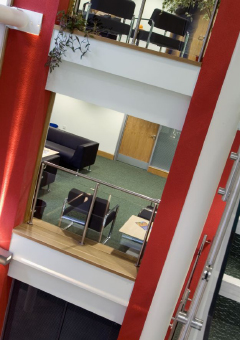 Inside the Institute for Advanced Studies
The Institute for Advanced Studies is offering seed corn funding to groups of researchers looking to get new projects off the ground.
Funding for individual projects of up to £3, 000 is available to small-scale activities with an inter- or post-disciplinarity focus that have the potential to grow into greater things, such as an application for external research funding, a significant publication, or an externally funded workshop or conference.
There is a ceiling on the total amount of funding available and modest bids may stand more chance of success.
Given the IAS mission to encourage bridge building and collaboration between colleagues in the Management School and the new Faculty of Arts and Social Sciences, projects should ideally involve colleagues from at least two faculties and three or more departments.
The funding is primarily intended to encourage new initiatives rather than to consolidate existing work.
Among eligible activities are workshops, research networks, public lectures, and seminar series. Other proposals are also welcome and interested applicants are encouraged to contact Bob Jessop, the IAS Director, for advice (r.jessop@lancs.ac.uk).
Applications should be in by Friday, March 3, 2006.
For further information go to <http://www.lancs.ac.uk/ias/about/unichallengecall.htm>
The IAS, which has been operating for three years and was officially opened on November 29, 2005, is an interdisciplinary research centre and think tank modelled on the famous Institute of Advanced Studies at Princeton in the United States.
It is the first of its kind in the UK to have an annual thematic research programme at the core of its activities. Its main research activities mobilize scholars in different disciplines in the Arts, Social Sciences and Management and other research centres in Lancaster and elsewhere.