LICA Dance Workshops on Location
04/19/2007 10:13:52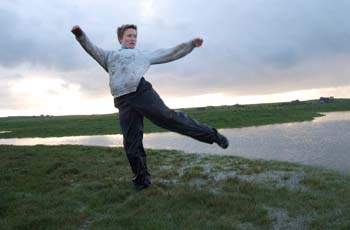 Dancer Kate Mercer (photo by Kirk Woolford)
Schoolchildren will be dancing by the seashore as part of an environmental arts workshop organised by Lancaster Institute for the Contemporary Arts.
The Year 6 pupils from Dallas Road Primary School will take part in performances on marshland on the Lune estuary as part of a series of workshops from April 23.
The event is part of the research and development phase of LICA's Water Log, a transatlantic project exploring the relationship between parts of Morecambe Bay and the Hudson River Estuary in the US.
There will also be a three-day dance workshop for professional artists based at Ludus Dance Centre in Lancaster and on location in Morecambe Bay and the Lune estuary.
Nigel Stewart of LICA will work with the award-winning environmental movement artist Jennifer Monson of Birdbrain Dance/iLand in the US.
They will be accompanied on the sometimes treacherous sands by cross-bay guide Alan Sledmore.
The workshop from May 1-3 will culminate in a symposium at LICA on May 4.
Nigel Stewart said Water Log explored the areas situated between water and dry land.
He said: "It's a particular set of techniques for sensitising people through movement to the phenomena that you experience in spaces in between water and dry land, especially marshland on the Lune estuary and the sands of Morecambe Bay.
"It's about creating artworks and seeing how they act as a catalyst for bringing together different groups of people as well as revitalising our relationship with nature."
Water Log is part of LICA's "Re-enchantmant and Reclamation project: New Perceptions of Morecambe Bay through Dance, Film and Sound", which is funded by the Arts and Humanities Research Council.
Contact Nigel Stewart at n.stewart@lancaster.ac.uk to reserve a place at the workshop.