Big Innovation Centre hosts launch of Government strategy for growth
12/09/2011 00:00:00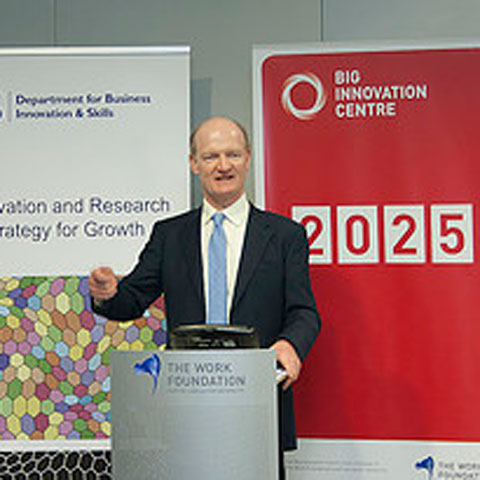 ​The Big Innovation Centre, an initiative of The Work Foundation and Lancaster University, has been chosen as the launchpad for the Government's new Innovation and Research Strategy for Growth.

The £75 million boost for high tech small and medium sized businesses is part of a package of measures launched by Business Secretary Vince Cable and Minister for Universities and Science David Willetts.

The N8 group of northern universities including Lancaster University was cited as an example of how economic growth can be boosted through investment in research and innovation.

Universities, Research Councils and businesses are seen as national assets that form the foundation of the UK's future competitiveness.

David Willetts said: "Our new innovation and research strategy is the next step in ensuring the UK provides the best possible environment for entrepreneurs and innovators. A new innovation landscape, combined with continued investment and collaboration with business, will ensure the UK is a world leader in innovation."

Key actions announced at the launch in London include:

£75 million of new government investment for the Technology Strategy Board to give high tech innovative businesses better access to the facilities and finance they need to develop and commercialise products.

£25 million to help companies develop large scale prototypes that will showcase their ideas to potential investors.

Piloting a new innovation vouchers scheme delivered by the Technology Strategy Board that will give SMEs the opportunity to get free academic support from colleges and universities.

Supporting SMEs by doubling the size of the Designing Demand Programme by £650,000 to £1.3 million a year. This is a mentoring programme run by the Design Council to help SMEs deliver improved products, services and brands to enhance their growth potential.

Working with the National Endowment for Science, Technology and the Arts (NESTA), to establish a Centre of Expertise for running innovation inducement prizes, and a new Innovation Prize Fund, in which we will invest £250,000 a year.

The Innovation and Research Strategy for Growth builds on the Government's existing Plan for Growth. It follows the recently published Life Sciences Strategy which included £180 million of new investment to support exciting medical breakthroughs, and a further £13 million to the existing £145 million investment in e-infrastructure - to power innovation and growth through the most sophisticated technology.