BREEAM Outstanding
06/14/2011 00:00:00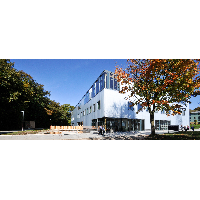 ​Lancaster University has delivered the UK's first higher education building project to be rated 'outstanding' by the environmental performance measure BREEAM for both design stage and post construction review.

The University has been awarded this distinction for its £10m Lancaster Institute for Contemporary Arts (LICA).

The innovative, timber-framed building is home to Art, Design, Film, Music and Theatre Studies as well as LIVE@LICA which combines three public arts facilities; the Peter Scott Gallery, the Nuffield Theatre and the International Concert Series.

LICA is an inspiring new facility, which offers a range of flexible performance and workshop spaces to support teaching and research in Art, Design, Film Studies, Music and Theatre Studies. The facility also houses Imagination at Lancaster, an exploratory design research lab. Research in LICA is rated in the UK's top 3 for quality with 80% classed as world or internationally leading.

The building embodies design quality and creativity and is a showcase for the creative activities that take place inside.
The highly innovative pre-fabricated and cross-laminated timber structure provides high levels of air tightness and enabled a quick and safe construction programme.

Mark Swindlehurst, Lancaster University Director of Facilities said: "We are delighted that Lancaster has been recognised as a pioneer of sustainable building in the Higher Education sector.

 "We see BREEAM as the yardstick for the environmental performance of our buildings and the effect they have on the wider environment. In 2005 we set out a strategy which had strict criteria to ensure that any new buildings on campus met the BREEAM Excellent standard and that any major refurbishments met BREEAM criteria of Very Good and in all buildings that have been completed to date we have met those targets."

In addition to the 'Outstanding' LICA building, to date the University has delivered nine BREEAM excellent new build developments, including the £20m Sports Centre opening in August.

Sheppard Robson, the architects who designed the LICA building, has also just been listed as one of the Sunday Times Top 60 Best Green Companies 2011 (ranked 40th).

The University is committed to sustainability and to reducing its carbon footprint. A wind turbine will be built on campus in 2012, and is just one project amongst many that the University is implementing or planning to implement to cut carbon emissions.

Other projects include replacing the University's main boilers, installing a Combined Heat and Power (CHP) Unit and plans to install a biomass boiler. 

The University is expanding its carbon saving competitions for students and is currently targeting staff in order to enable them to improve energy efficiency in their work areas as well as implementing dozens of small scale energy and water saving projects to get everyone thinking about the way in which they use energy and the way in which they can contribute to carbon reduction.

Completion of all these projects over the next three years would reduce carbon emissions by over 30%, well on the way to the very challenging Higher Education sector target of cutting carbon emissions by 43% by 2020.

Results of the Staff Travel Survey show a 70% increase in bus use amongst staff since 2007, a 17% increase in car sharing and women cycling to work up by 35% (8% overall).