Malaysian Students Visit Lancaster
03/12/2010 11:19:41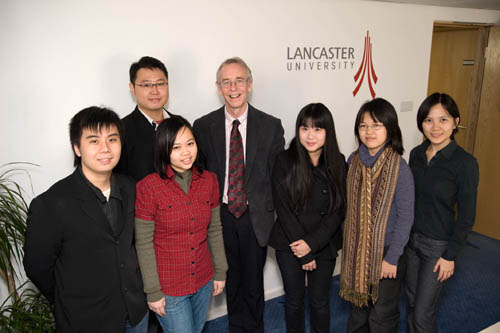 Sunway students with Deputy Vice-Chancellor Professor Bob McKinlay
High fliers from one of Lancaster University's academic partners- Sunway College, Malaysia - were on campus this week.
The students were at Lancaster University to get a glimpse of campus life and learn about British culture and heritage. The group, which included three Chancellors' Scholars, visited departments relevant to their studies and experienced how lectures are conducted at Lancaster.
Sunway University College, Kuala Lumpur, Malaysia is a private institution established in 1987 offering students a good quality education on a purpose-built campus. Sunway has well-established and internationally recognised pre-university programmes for students wishing to study in the UK, Australia, Canada and other countries.
Sunway University College and Lancaster University established an academic partnership in 2006. Under this institutional arrangement, students at the Sunway campus are able to study for undergraduate degree schemes in the areas of Business, Computer Technology, Hospitality and Psychology. In Malaysia, after successful completion of the degree programme, students are awarded an honours degree validated by Lancaster University.
Masters programmes began in August 2009. An executive programme for the Sunway Group leading to a Certificate of Achievement began in November 2009.
The Chancellors' Scholarships are offered in the names of Tan Sri Dato' Seri Dr Jeffrey Cheah, Foundation Chancellor of Sunway University College and Sir Chris Bonington, Chancellor of Lancaster University. They commemorate the affiliation between Sunway University College and Lancaster University in joint degree programmes in business, computer technology, hospitality, tourism and leisure management, and psychology.
The recipients of the Scholarships for the 2010 visit were: Chan Yung Mun (Mr), BSc (Hons) Accounting and Finance; Joyce Oo Pui Yee (Ms), Bsc (Hons) Accounting and Finance; Chang Mei Yan (Ms), BSc (Hons) Psychology.