£1M Funding for small business in the North West
12/06/2002 16:28:29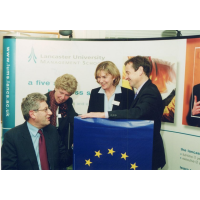 Chris Davies MEP joined Pro Vice Chancellor Richard B Davies last week to celebrate £1m of European Regional Development Objective 2 funding for small businesses the North West.
The Entrepreneurship Unit at the Management School intends to use the funding to support emerging innovation in SMEs through Cumbria, Lancashire and Greater Manchester helping them to grow and prosper. Support in the form of free and heavily subsidised professional consultancy advice is available immediately.
Commenting on the funding Chris Davies said: "It's not often that you get something for nothing but this funding is freely available to support companies in our region and what's more there's no red tape! Having run my own business for 15 years I know how important it is to keep ahead of the game and I'd urge businesses to contact the team here and see what support they can provide."
Over 100 guests joined Chris and the Entrepreneurship team including many early recipients of the grants. Graham Baines, MD, Fonedream, based in Lancaster has received free consultancy to support his mobile phone content company. He said: "The extra manpower and advice gave us the flexibility to implement these ideas. Although it is too early to evaluate the project I am confident that it has brought long-lasting business benefits to Fonedream and I'm looking forward to working with them in the future."
Magnus George who heads up the Entrepreneurship team with Al Mather added: "We've already supported 40 SME's in Cumbria, Lancashire, Cheshire and Greater Manchester and I hope that within the year we will have more than 200 companies on board."