Lectures & Seminars
05/04/2007 11:54:55
LANCASTER INSTITUTE FOR THE CONTEMPORARY ARTS (LICA) is pleased to announce its first short set of research seminars to take place in June 2007. The events begin with a workshop on Music Therapy on 8 June (2.00 - 3.30pm, Jack Hylton Music Rooms) by visiting speaker, and experienced Music Therapist, Ann Woodward. Two research seminars follow on Music (13 June) and Art (20 June) which explore different interdisciplinary dimensions. Admission is free. All staff and students are welcome. For full details of events, please see the listing under Lectures & Seminars. For enquiries, please contact: Dr Deborah Mawer, Director of LICA Research Seminars (d.mawer@lancaster.ac.uk).
Ann Woodward: 'Rhythm and Relationship: an Introduction to Music Therapy'
Friday 8 June, 2.00-3.30pm, Jack Hylton Music Rooms
Music Therapy is widely used in fields including learning disabilities, mental health and neuro-disability. It uses improvised music as the basis for communication in a therapeutic relationship. Ann Woodward is a State Registered Music Therapist, with over 10 years of experience working with children with special needs. This introductory workshop will give a rare opportunity to see and hear examples of music therapy in action, and a chance to experience using music to communicate and interact. There will also be information about training as a music therapist and researching in this field.
Martin Iddon: 'Toward a Minor Music: American Experimentalism at Darmstadt, 1958-1974'
Wednesday 13 June, 2.00-3.30pm, Jack Hylton Music Rooms
Deleuze and Guattari propose that Kafka's writing, as a Czech Jew in Prague, became a 'minor literature' in German, in the sense that Kafka makes himself a stranger within the language in which he is writing. This theory might serve as a useful model for understanding the ramifications of any language operating within a dominant language or culture. Any minor literature is political, concerned with the relationship between language and power. Might we conceive, though, of a minor music? Martin Iddon proposes the example of American composers at the Darmstadt New Music Courses between 1958 and 1974 as a way of thinking about music existing within and impacting politically upon a distinct European dominant culture.
Kirk Woolford: 'Move Me: Embodied Response to Visual Perception'
Wednesday 20 June, 2.00-3.30pm, Jack Hylton Music Rooms
With the publication of 'Art and Visual Perception: A Psychology of the Creative Eye', Rudolf Arnheim created an inseparable bond between visual art and psychology. However, in the past 50 years, neuro- and cognitive sciences have given us a great deal more insight into visual perception. One current debate revolves around the question of whether human beings have not only a specific form of motion vision, but also whether perceiving in this manner causes the observer to move his or her body in response to what is seen. Kirk Woolford will present an overview of the debate and how he explores these issues through photography, performance, and interactive installations.
Admission is free. All staff and students are welcome. For enquiries, please contact Dr Deborah Mawer, Director of LICA Research Seminars (D.Mawer@lancaster.ac.uk).

Department of European Languages and Cultures
RESEARCH SEMINAR SERIES
6 June The novels and poems come unwatched out of
one's pen'. Towards the Aesthetics of the
Non-Conscious in German Romanticism
Professor Rüdiger Görner (Queen Mary, University of
London)
5pm, IAS MR2

18 June Ismail Kadaré and Kosovo
Dr Robert Crawshaw (DELC)
1pm, IAS MR3
All welcome and for further information, please
contact l.gilmour@lancaster.co.uk


Interdisciplinary Training Seminar
4 June The Electronic Revolution in Textual Analysis.
A Research Training Seminar

This seminar is intended to encourage use of electronic
textual analysis by people doing research in FASS
and beyond.
1.00-5.00 pm, IAS Meeting Room 2 and 3
All welcome.
Places Limited: Contact Stephen Pumfrey. Tel: (01524- 5)92508. Email: s.pumfrey@lancs.ac.uk


Centre for Science Studies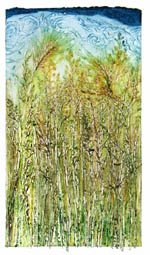 5-6 June The Social and Material Practices of Agriculture, Farming and Food Production

Vicky Singleton & John Law
Artwork & photography courtesy of Sheila Tilmouth: www.sheilatilmouth.co.uk

www.lancaster.ac.uk/fass/centres/css/
events/farmingworkshop.htm

The Centre for North-West Regional Studies Conference
in conjunction with The Norman Nicholson Society
13 June Cultural Landscapes, The Poetry and Prose of
Norman Nicholson
The Conference Centre, Lane Farm, Crooklands

For further information please contact Christine Wilkinson Tel: 01524 593770; email: christine.wilkinson@lancaster.ac.uk or visit the website http://www.lancs.ac.uk/depts/cnwrs/events.html